The pediatric residency training program at University of Iowa Stead Family Children's Hospital lasts three years and provides each resident physician with a sufficiently diverse experience.
To view a summary of all three years of the residency training program, download our 2020-2021 training outline. Please see this page for further rotation descriptions.
First Year
Below is a typical first year schedule. Each block is four weeks long:
Blue Day Team (3 blocks)
Green Day Team (3 blocks)
NICU Bay 2/3
Newborn Nursery
Developmental Behavioral Peds
General Pediatrics & Acute Care Clinic (2 blocks)
"Selective" subspecialty clinic (see above)
We have designed the first year of training to emphasize the care of the sick child of all ages, allowing our residents to develop expertise in distinguishing the ill from the well child. Close guidance and supervision is provided by senior residents and attending faculty members from all subspecialties in pediatrics. In addition to inpatient, critical care, and nursery experiences, residents spend time in our busy outpatient general pediatrics clinic, evaluating the full range of primary care and urgent care issues. Residents are introduced to our comprehensive developmental center in our developmental behavioral pediatrics rotation. In order to individualize their residency experience, every first year resident is able to choose one subspecialty selective and also an elective to pursue a possible career path, learn more about a field, or develop skills in an area of interest.
During the first year, our residents begin to develop a personal panel of patients seen in their weekly continuity clinic. These patients are cared for by a consistent team of residents and general pediatricians assigned to each day of the week, but identify with one resident to provide continuity for the resident and the family over the course of three years. Residents build their panel of patients through inpatient, nursery, and general pediatrics experience, and see a diverse range of ages, ethnicities, backgrounds, and conditions. Included in the general pediatrics experience are children with complex or chronic conditions that get specialized care through our Stead Family Children's Hospital.
Second Year
Below is a typical second year schedule. Each block is four weeks long:
Senior Night Team (2 Blocks)
Red Day Team (1 Block)
NICU Bay 1
PICU Days (2 Blocks)
Blank Children's Hospital ETC
Community Pediatrics
Adolescent Medicine
"Selective" subspecialty clinic (see above, 2 blocks)
Career Elective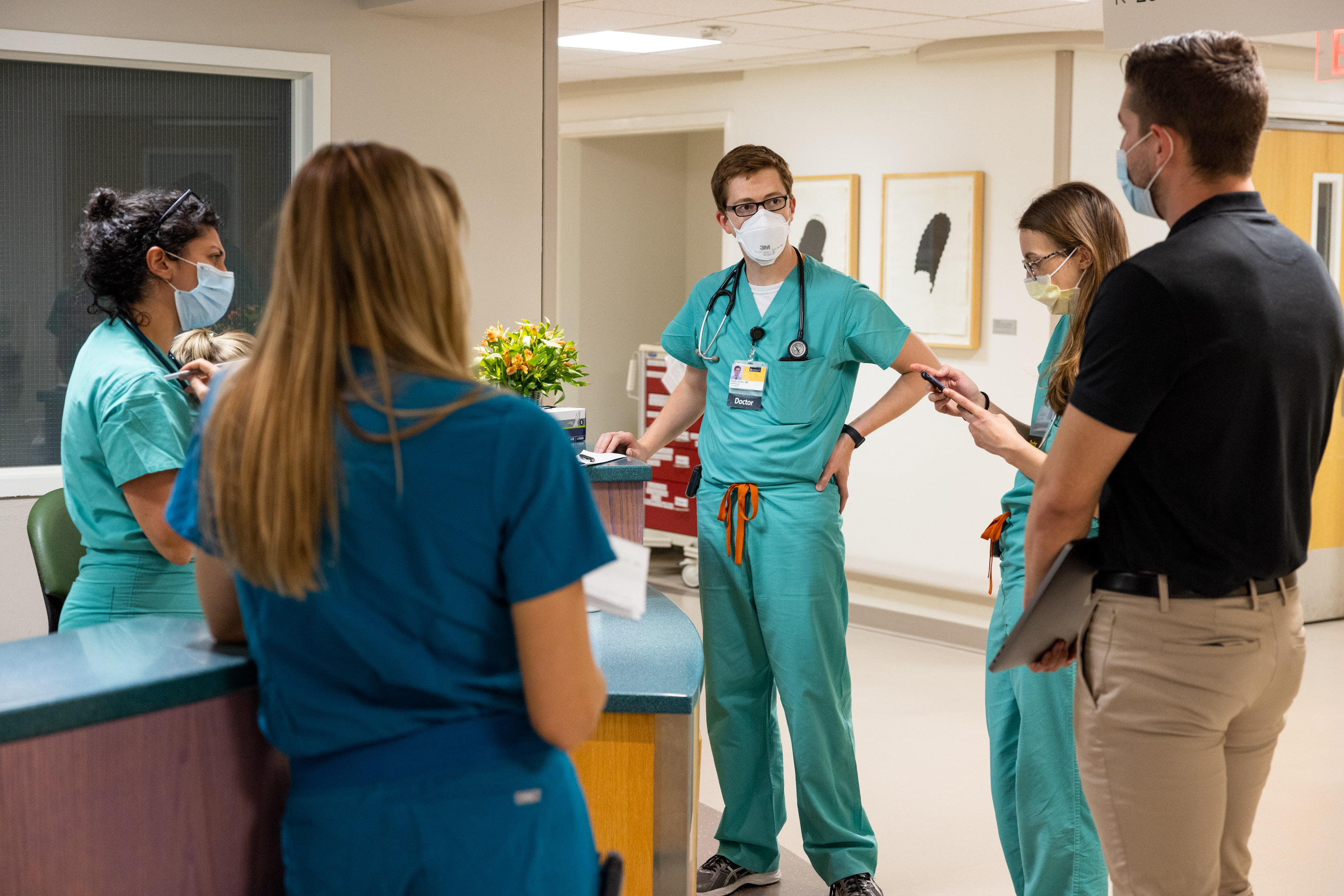 The second year of our program provides residents with further experience in a number of pediatric subspecialty areas, including two "Selective" rotations in the following subspecialties: allergy-immunology/pulmonology, cardiology, endocrinology, gastroenterology, hematology/oncology, infectious disease, genetics, neurology, nephrology, and rheumatology.  During these busy outpatient months, residents see patients in clinic, provide consultative services for the hospital, and participate in procedures. Residents may also choose one additional elective.  Residents also have the opportunity to participate in specialized educational conferences, research, and multidisciplinary discussions.
Second year residents also gain further experience caring for our sickest patients in the pediatric and neonatal critical care units, and working with junior residents and medical students in a supervisory role on the inpatient floors and in the general pediatrics clinic. In addition, two blocks of "Red Day Team" are included in the second year schedule where two second year residents manage the inpatient hematology/oncology service each block as well as spend time in the outpatient heme/onc clinic and perform procedures.
To experience pediatrics outside a large, university-based academic center, our residents spend one block learning at a local private general pediatrics practice, and another at an urban children's emergency room in Des Moines, Iowa. Travel and lodging are provided by the program.
Many residents use the second year to hone their interests and determine their future career path. Our Career Elective rotation provides a mentored opportunity to design a rotation with clinical, educational, administrative, and research experiences in each resident's field of interest. An additional elective block can be used to further this interest or pursue other learning goals during the second year of training.
Third Year
Below is a typical third year schedule. Each block is four weeks long.
Blue Team Day Senior
Green Team Day Senior
Red Team Day Senior
NICU Night Team
PICU Nights
UIHC ETC
"Selective subspecialty clinic (see above, 3 blocks)
General Pediatrics and Acute Care Clinic
Elective (2 blocks)
Call-Free Elective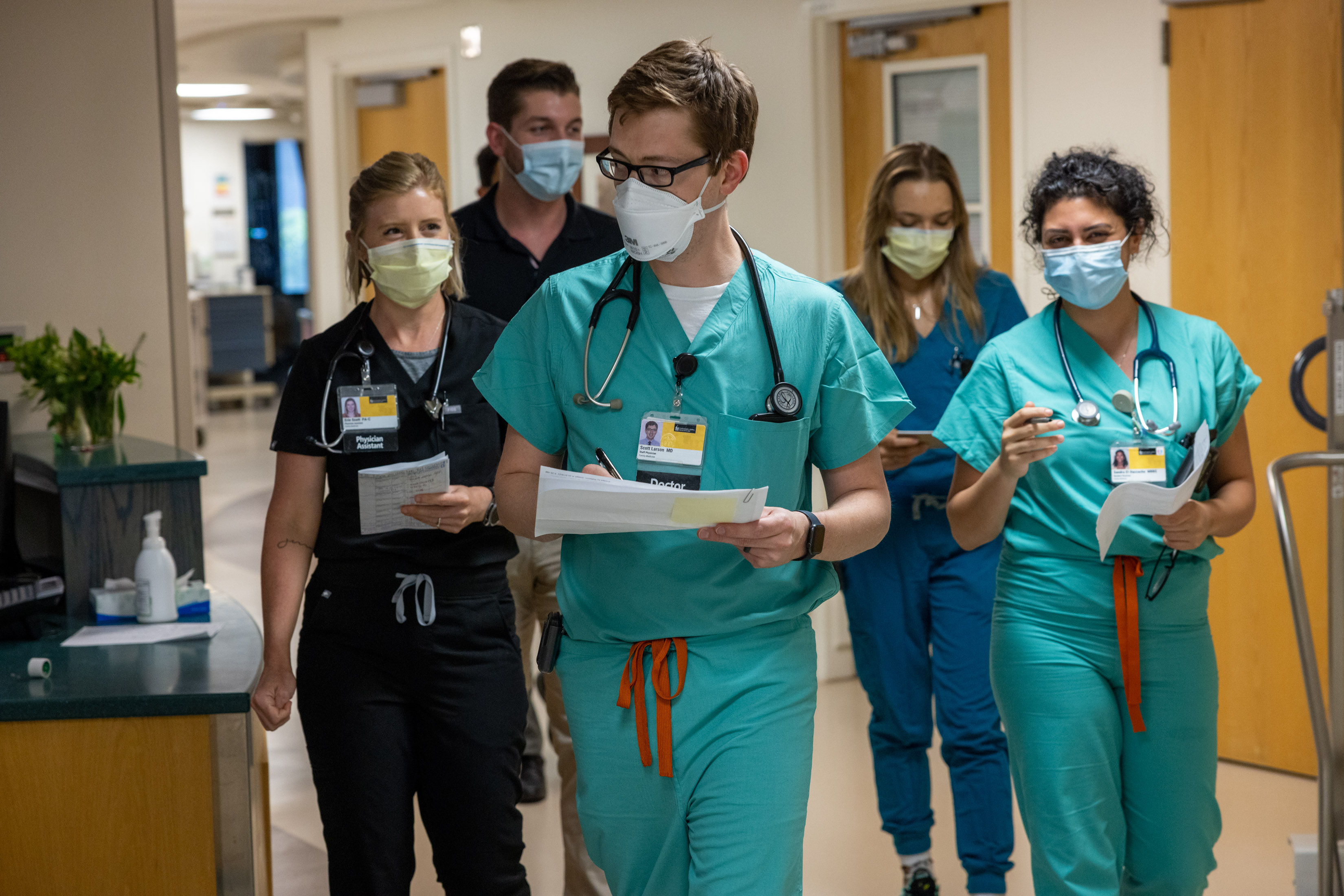 This final year of pediatric training allows our residents to further refine their clinical skills and judgment in a variety of settings. Residents serve as the senior resident and team leader on the inpatient units, in the ICUs, and in the general pediatrics clinic. They are the first-line consultant and supervisor for first year residents and medical students, and gain valuable experience in team leadership, education, and patient care. Residents continue to work in the pediatric subspecialty clinic and the emergency room as experienced members of our department.
Throughout the three-year program, residents are able to design their own combination of clinical, research, and procedural experiences to prepare them for independent practice or fellowship. As a third year resident, three full blocks are available to pursue these interests, with the guidance of the program leadership, program mentor, and divisional resources.