University of Iowa Stead Family Children's Hospital
All services have now moved into the new, approximately $360 million, 507,000-square-foot University of Iowa Stead Family Children's Hospital facility! Adjacent to UI Hospitals & Clinics, the 14-level structure (12 above ground, 2 below ground) will offer 183 beds, an increase from the 164 beds in the current UI Children's Hospital. There will also be eight pediatric operating rooms as well as features that focus on the needs of patients and their families. You can take a closer look inside the new hospital here!
PICU
Our 28-bed Pediatric Intensive Care Unit (PICU) and Pediatric Cardiac Intensive Care Unit (PCICU) is the only comprehensive health care center in Iowa that offers the full range of pediatric critical care therapies. We have the people, the expertise, the experience, and the state-of-the-art equipment and facilities to provide the highest level of care for a wide range of complex, and sometimes rapidly changing, medical problems.
NICU
Our Neonatal Intensive Care Unit is the only NICU in Iowa to have a Level IV designation, which is the highest level recognized by the American Academy of Pediatrics. This means that we care for the tiniest and most critically ill babies, offering the greatest range of neonatal services and support. The state-of-the-art NICU houses up to 81 critically ill newborns, all in single rooms with four larger rooms that will accommodate twins. The unit is equipped with the latest equipment and staffed by a large team of highly trained nurses and other staff. A laboratory within the NICU provides around-the-clock service.
University of Iowa Dance Marathon Pediatric Cancer Center
Level 11 of the UI Stead Family Children's Hospital is dedicated entirely to the University of Iowa Dance Marathon Pediatric Cancer Center and includes inpatient and outpatient services. The center includes our pioneering Bone Marrow Transplant (BMT) program, the only pediatric BMT program in the state of Iowa.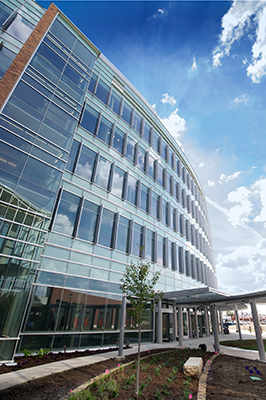 Iowa River Landing
Our clinic at Iowa River Landing is a short 2.5 miles from the main hospital campus. Our main general pediatrics clinic, as well as most of the residents' continuity clinics, are located here. The facility is equipped with laboratory and radiology services, as well as an outpatient pharmacy.
Patients and their families enjoy the ease of access with its location right off I-80. Many pediatric subspecialties as well as pediatric providers of other specialties also have clinics at IRL. For example, otolaryngology is located on the same floor as the general pediatrics clinic. This allows us to collaborate with these providers when needed and coordinate care for our more complex patient populations.
North Liberty Clinic
This outpatient clinic for General Pediatrics and Family Medicine is another continuity clinic site for our residents. This clinic serves as a medical home for patients and families living in the fast growing community of North Liberty just north of Iowa City.