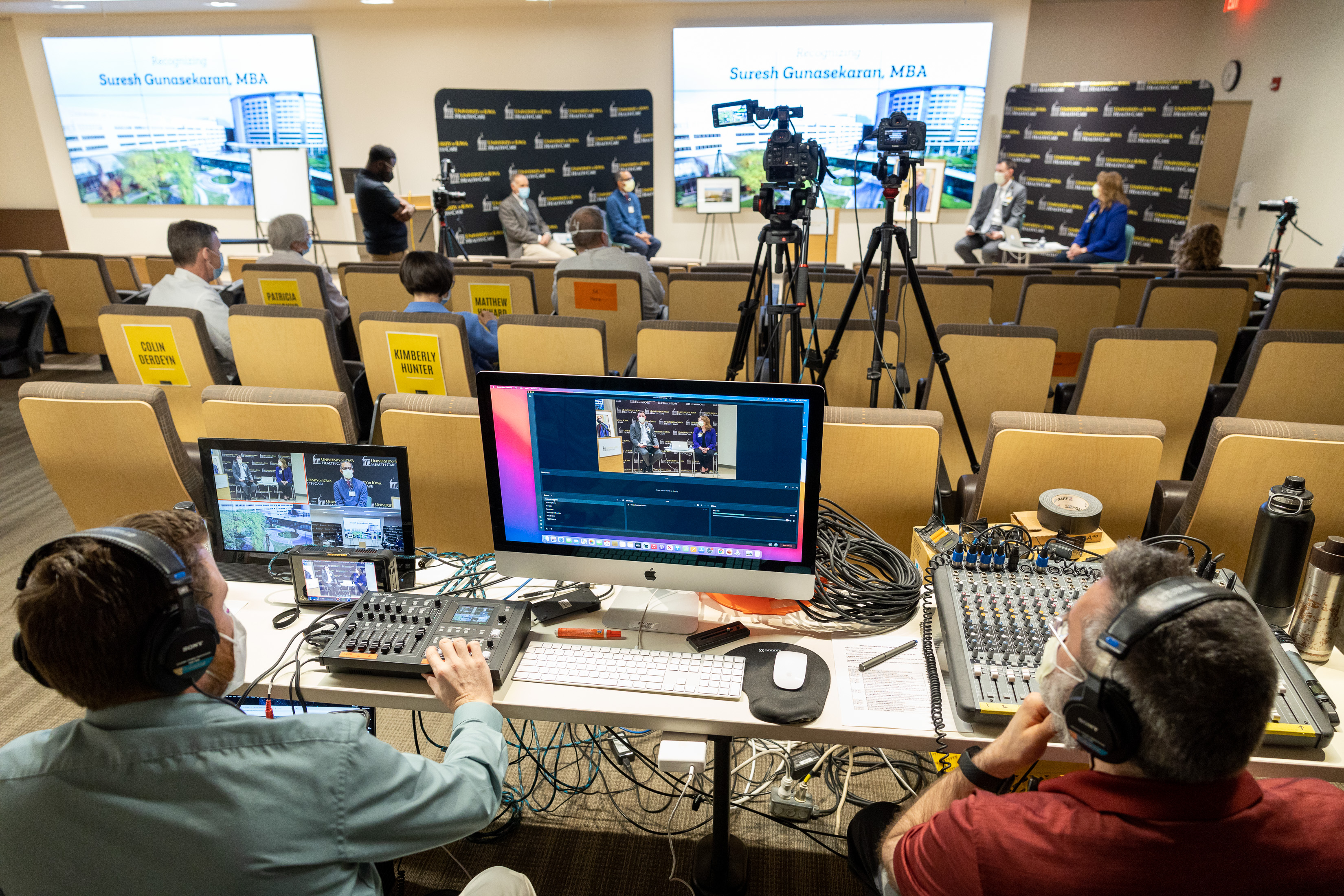 Residents have education time Monday through Thursday from 12 p.m. to 1 p.m., and Friday from 12 p.m. to 2 p.m. Conferences include:
Core Curriculum Lecture Series
Didactic lectures covering American Board of Pediatric board content.
PICU Conference Series
Lecture series targeted to ICU principles, conditions, and managements provided to residents during their daytime PICU blocks during second year of residency. Presenters include critical care staff, fellows, RTs, and more.
Resident-Led Lectures
Senior Case Conference
Third year residents present a formal patient case of their choosing. Residents will select a faculty mentor to assist with the presentation, with additional support from a Dr. Colburn, our Associate Program Director of Development and Advocacy. The Case Conference is designed to examine, via case presentations, topics in Pediatric medicine based on current literature and evidence-based medicine.
Journal Club
Second year residents evaluate and present an evidenced-based, peer reviewed article of their choosing, with assistance from an Dr. Lyndsay Harshman, our Associate Program Director of Research. Through this series, residents learn how to formulate a clinical question, learn techniques on searching the medical literature efficiently, learn how to efficiently read a journal article and critically appraise a variety of journal articles. The objective is for residents to apply above techniques to everyday practice and to continue lifelong learning.   
Afternoon Report
Case conference series facilitated by Chief Residents once per block. One of the inpatient teams prepares and presents an interesting patient case with participation of medical students, interns, senior residents, fellows, and faculty.
Resident Report
Weekly conference facilitated by Chief Residents where residents present brief patient cases. Each resident is expected to present at least two cases per year.
Departmental Lecture Series
Grand Rounds
Held every Friday, these state-of-the-art clinical science presentations are given by faculty and guest speakers. Speakers encouraged to include DEI and social determinants of health that apply to chosen topic.
Frontiers in Pediatric Research
State-of-the-art research science presentations by faculty and guest speakers.
Pediatric Pain and Palliative Care Education series
Multidisciplinary conference discussing topics such as palliative care, psychosocial issues relating to dealing with chronic illness, receiving bad news, and death, as well as pain management and care at the end of life.
Pediatrics Departmental M&M
Faculty led morbidity and mortality review on specific case to provide additional learning, quality improvement, etc.
Additional Educational Opportunities
Academic Half-Day
Full afternoon of protected learning, occurring approximately once per block. AHD is often given as case-based session focused on ABP content and will consist of short lectures, small group activities, procedural sills, an/or board prep questions. Pediatrics faculty, faculty from other specialties (such as Pediatric Urology, Pediatric Dermatology, and Pediatric Emergency Medicine), pediatric subspecialty fellows, and senior residents present at these sessions.
PICU M&M
Pediatric residents are invited to the monthly PICU morbidity and mortality conference series.