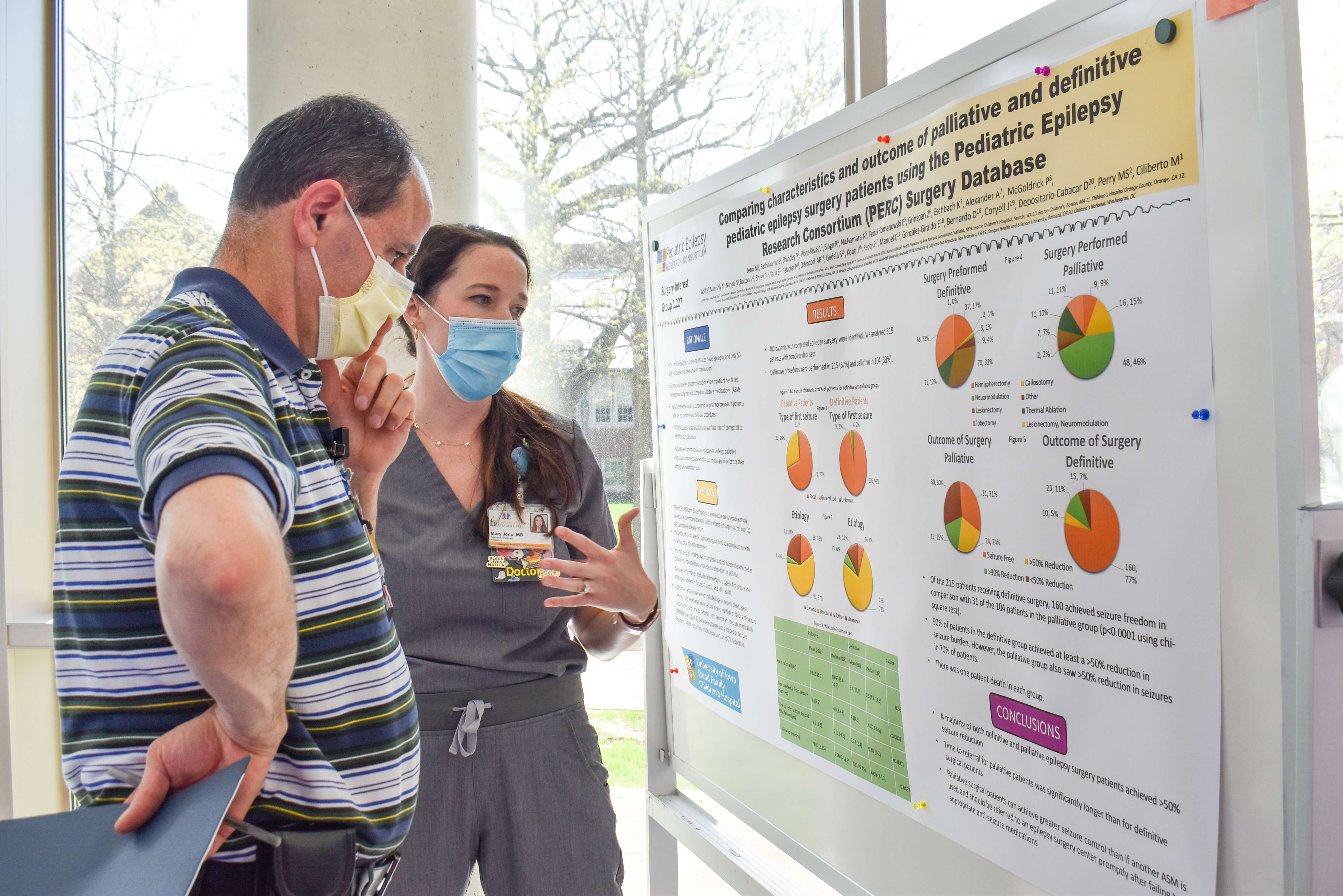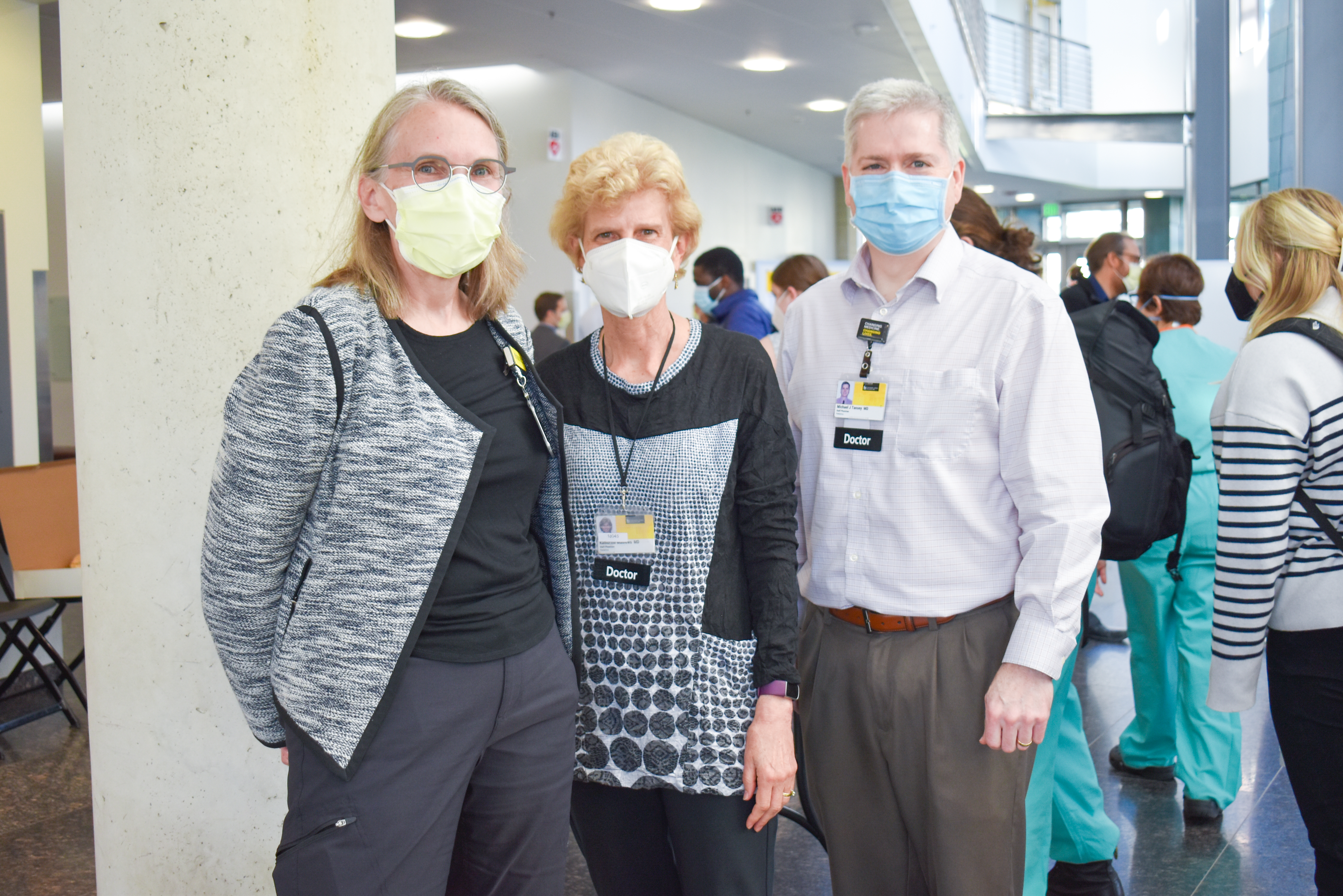 Opportunities abound for carrying out clinical or basic research during residency! Our residents are encouraged to take electives with our pediatric or non-pediatric faculty in a variety of areas from clinical to translational to basic research.
UI Stead Family Department of Pediatrics faculty members are in key national leadership positions across the disciplines of academic pediatrics and biomedical research, and is currently ranked No. 25 in National Institutes of Health (NIH) funding among all public pediatric departments nationwide. 
The Roy J. and Lucille A. Carver College of Medicine is internationally recognized for its excellence and leadership in biomedical research. It is ranked No. 41 in research in the 2023 U.S. News & World Report listing of "Best Graduate Schools," and it is ranked No. 16 in NIH funding among public institutions by the Blue Ridge Institute for Medical Research. 
A variety of research opportunities exist for our trainees:
Research electives
Since 50% of our residents go on to fellowship, many find research electives helpful in their career choice. Many of our pediatric residents participate in research electives during their training, and will subsequently go on to present their work at national meetings and/or in publication format.
Physician Scientist Training Pathway
Exceptional pediatric residency applicants who already have an outstanding basic or clinical research experience are eligible to apply to the Carver College of Medicine's Physician Scientist Training Pathway (PSTP) Program. The objective of the Physician Scientist Training Pathway Program is to promote the postgraduate training and career development of physician-scientists who will become future leaders in academic medicine.
PSTP participants receive a $4,000 stipend per year. 
PSTP participants are guaranteed a fellowship spot in the Stead Family Department of Pediatrics upon satisfactory completion of their residency training.
This program takes advantage of alternative pathways of residency - including the Integrative Research Pathway - and subspecialty fellowship training in accordance with established criteria for American Board of Pediatrics.
Persons interested in applying to the PSTP at the University of Iowa should complete the categorical pediatrics application on ERAS, and additionally complete the PSTP Application Form by December 1, 2022.
Stimulating Access to Research during Residency (StARR) Program
The goal of the Iowa StARR Scholars Program is to attract residents who may not have otherwise considered a career as a physician-scientist, and to provide them with the opportunities, mentoring, and skills they need to succeed.
One resident per year from Pediatrics may serve as a StARR Scholar. StARR Scholars will pursue 12 to 18 months of mentored research focused in the areas of cardiovascular, lung, blood, and sleep diseases. During this time, trainees will participate in a mentorship program in which physician-scientists interact one-on-one with Scholars. The total duration of clinical and research training will be four years.
The Pediatrics StARR Scholar is guaranteed a fellowship spot in the Stead Family Department of Pediatrics upon satisfactory completion of their residency training.
Applicants to our pediatric residency program who wish to learn more about resident research opportunities (including University of Iowa's PSTP Program) are invited to contact Director of the Pediatrics Physician Scientist Training Program, Lyndsay Harshman, MD, MS.