NeuroWELLNESS
Our Residency Program is committed to excellence in Neurology training as much as it is committed to achieving a healthy environment for residents,    faculty, and staff.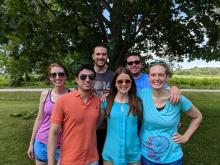 We officially established a Wellness Program in 2019, the aim of which is to establish a multidisciplinary and integrated approach to health management.  
The goals of this program are to improve individual and group health and well-being, develop a supporting and comforting environment, and increase participation and create interest in health management.
Vision
–To become a national leader in Residency Wellness and to enhance the quality of life and overall satisfaction of our residents, faculty, staff members, and patients.
  Our People
–  Deema Fattal, MD, Director, Wellness in Neurology
–  Adriana Rodriguez Leon, MD, Senior Neurology Wellness Resident
–  Karina Gonzalez Otarula, MD Neurology Wellness Liaison Resident
  Contact us: Neurology-Wellness@healthcare.uiowa.edu