PGY5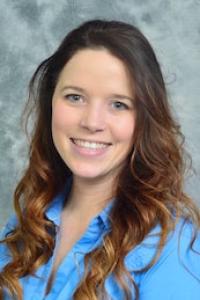 Mary Jeno, MD
Pediatric Residency: University of Iowa Stead Family Children's Hospital, Iowa City, Iowa
Medical School: University of North Dakota, School of Medicine and Health Sciences, Grand Forks, N.D.
I grew up in Grand Forks, North Dakota, about two hours south of the Canadian border. I attended the University of North Dakota (UND), where I graduated with honors and received my BS in biology.
I knew from a young age that I wanted to become a pediatrician, but I was never sure of the specialty I would pursue. I attended UND for medical school as well, where I furthered my love for pediatrics with volunteer work and realized my passion for neurology in the classroom and clinic! I married my husband and we have since found home in Iowa.
We find that Iowa City is a welcoming and diverse community. Our interview day sealed the deal. I knew UI Stead Family Children's Hospital was nationally ranked and would push me to become the best child neurologist possible. The people I met were warm, encouraging, and willing to help me follow my passion. It was an easy decision to make!
I am planning on focusing my career on neurocritical care, with special interest in advocacy and traumatic brain injury. When I'm not in the hospital, my husband and I enjoy taking our dog and twin daughters to the Iowa City Farmers Market, Lake McBride, and for walks to the ice-cream shop Heyn's by our house. 
PGY4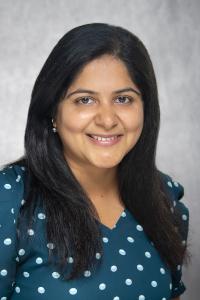 Spoorthi Jagadish, MD, MBBS
Pediatric Residency: University of Iowa Stead Family Children's Hospital, Iowa City, Iowa
Medical School: MBBS, Father Muller Medical College, Mangalore, India; MD, Pediatrics, Grant Medical College and Sir J. J. Group of Hospitals, Mumbai, India
After completing my medical school training, I did my residency in pediatrics in India and worked as an Assistant Professor at Grant Medical College, Mumbai for a year. Afterwards, I completed a two-year fellowship in pediatric neurology in Mumbai, India. In late 2016, I moved to Rochester, Minnesota and worked as a research coordinator in pediatric epilepsy clinical trials at Mayo Clinic for a year and a half before I matched at University of Iowa! I found my interest in pediatric neurology towards the end of my residency training in India and absolutely love neurology and epilepsy.
I had heard such wonderful things about the Child Neurology Residency Program at University of Iowa from so many pediatricians and neurologists that I met here in the U.S. It was on the top of my list and I was very excited to match here! 
I have not had much time to explore Iowa yet, but there are some things I know for sure–the people here are warm, genuinely kind, and lovely! Also, there are many nice parks for my daughter to play at during weekends!
I love reading novels–mainly fiction, playing badminton, cooking, and watching some of my favorite shows when I find the time–Frasier, Game of Thrones, Breaking Bad, etc.
PGY3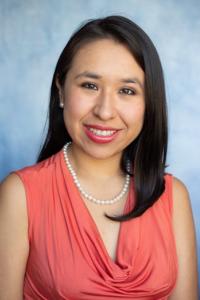 Karen Villarroel Gomez, MD
Pediatric Residency: University of Iowa Stead Family Children's Hospital, Iowa City, Iowa
Medical School: Loyola Stritch School of Medicine, Chicago
I was born in La Paz, Bolivia (about a 20 hr flight from Iowa counting layovers). When I was 8, my parents and I moved to the suburbs of Washington DC in Virginia where I learned English and developed my love for the sciences. I loved Virginia so much I decided to stay and attend Washington and Lee University where I received my BS in Chemistry and met my husband. I moved to Chicago after graduation where I attended the Loyola Stritch School of Medicine. During interview season, my husband Austin Walker and I both loved Iowa - both from a work/co-workers perspective as well as a buy a home and raise a dog perspective. It was surprisingly easy to make a rank list that would allow for couples matching after our Iowa interview, the rest is history.
From a young a age, I loved the sciences and while I thought about being a chemist, it was ultimately my passion for helping people that drew me into medicine. During medical school, I noticed that working with children made me the happiest. In neurology I found eternal interesting reading material and a way to help a diverse group of patients of various abilities and ages.
I hope to practice general neurology with a special interest in advocacy, mentorship, and global health. I would also like to work with underserved immigrant populations as I grew up undocumented and later with DACA status. I love to spend time outdoors and with my family to include my dog Baxter. My favorite hikes include the rim-to-rim Grand Canyon as well as the Kalalau trail in Kauai. I am always up for camping and hiking!
PGY2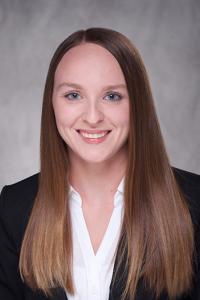 Destinee Schmitz, MD
Pediatric Residency: University of Iowa Stead Family Children's Hospital, Iowa City, Iowa
Medical School: University of Iowa Carver College of Medicine, Iowa City, Iowa
I grew up in Clinton, Iowa. I attended Iowa State University for my undergraduate degree where I received my BS in Kinesiology and Health. I went to medical school at University of Iowa Carver College of Medicine and am so excited to be staying here for residency! I knew coming into medical school that I wanted to pursue pediatrics, I coached competitive gymnastics for multiple years prior to medical school and loved interacting with children and their families. I found my love for child neurology during my second year of medical school after having some lectures on common conditions seen by pediatric neurologists, I shadowed in clinic that year and immediately knew it was the right choice for me.
The collaborative environment at Iowa really stood out to me throughout my time here as a medical student as well as during my residency interviews. I was looking for a program where the faculty and residents all knew each other, where there was a collaborative environment, and where I would receive excellent training and see a wide range of common and rare conditions. The child neurology program at Iowa is nationally ranked, UI Stead Family Children's Hospital is also the only nationally ranked children's hospital in Iowa and serves patients from across the state as well as from many of the surrounding states so I knew I would get an excellent education here.
As of now, I am interested in a career as a general child neurologist but may decide to pursue a fellowship in the future. My current interests include headaches, movement disorders, and epilepsy. Outside of work I enjoy spending time with my husband and our two dogs. I love the outdoors and Iowa City has a lot of places to explore with trails for walking or riding bikes. I also enjoy sports and am excited to attend some football and basketball games this year. In my free time I like to bake and explore all of the restaurants in Iowa City and the surrounding areas.
PGY1 Residents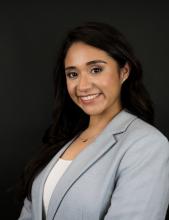 Verónica Ramírez Altamirano, MC
Pediatric Residency: University of Iowa Stead Family Children's Hospital, Iowa City, Iowa
Medical School: Tecnológico de Monterrey, Monterrey, Mexico
I'm from Mexico, I was born in Tlaxcala, Tlaxcala, and spent most of my childhood and teenage years in Veracruz, a beautiful but poor area in southern Mexico. After growing up watching my mom practice medicine and changing lots of lives I fell in love with the profession and decided to become a doctor.
I received a scholarship at one of the best medical schools in my country, Tecnológico de Monterrey, and I started this journey knowing that I wanted to get into pediatrics, as through the years I have realized that working with children was a joy for me. During my last year of medical school, I had the opportunity to come to the US and experience what Child Neurology was during a clerkship, and I just knew that it was for me, the perfect merge of Neurology, a beautiful but challenging specialty merged with my passion for pediatrics.
I was happy beyond words when I received my Match results! I still can remember at the end of my interview day, I told myself "This is it, I want to go to Iowa!", I felt welcomed and appreciated from the first moment, and everyone from the residents to the faculty I interviewed was really honest, supportive, and truly committed to the respect and pursuit of Equity and Diversity in Medicine. As a Latina woman in Medicine, this last point was particularly important for me. And the program at the UI is nationally ranked and offers all you need to build exceptional clinical skills and a depth of knowledge while working in a collaborative and supportive environment where doctors are not only valued as professionals but as unique and valued individuals.
After finishing my training as Child Neurologist, I would like to do research and academics. Neurodevelopmental disorders such as ADHD and other areas such as Neuroimmunology and Neuropsychiatry are, for now, my main interests.
I enjoy the outdoors and can't wait to explore Iowa!; I love running with my dog Lily, practicing yoga, playing the ukulele, and painting. I'm also interested in activities and projects that are related to animal rescue and protection.
I truly believe being different is a strength to a team when all are propelled by the same motor. A passion for learning, growth, and achieving the best healthcare results to serve children, and the University of Iowa confirms it!
Lauran Varan, MD
Pediatric Residency: University of Iowa Stead Family Children's Hospital, Iowa City, Iowa
Medical School: Universitatea de Medicina si Farmacie Victor Babes, Romania
I grew up in Ghiroda, a small village from Romania. I attended medical school at the University of Medicine and Pharmacy "Victor Babes" from Timisoara, Romania. During medical school I started volunteering at one orphanage. These children have a special place in my heart. While helping these orphans, I realized that I have a passion for working with children. 
I did two years of pediatrics residency in Romania, and during the child neurology rotation I found myself amazed at how complex neurologic pathologies are.
In 2019 I got married and then I immigrated with my husband to the United States. 
During the interview season, I was very impressed by the Child Neurology Residency Program from the University of Iowa and the people I met there. I knew I wanted to grow here as a child neurologist. I was so happy to match here. 
I would like to practice general child neurology. In the future, I want to advocate for children, and also continue to work with orphans and underserved families. 
In my free time, I love to spend time with my husband and my daughter. We love to cook,  explore new places in the nature and try new restaurants.