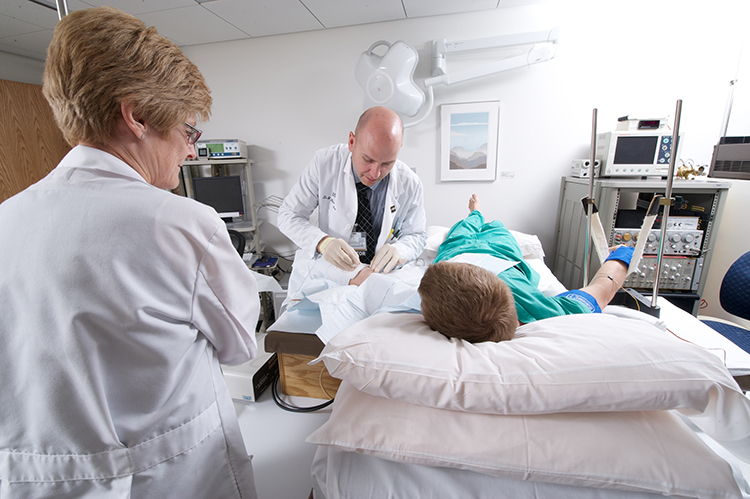 At the University of Iowa, residents with and without previous research experience have the opportunity to participate in research during residency. They are encouraged to select a project and a mentor that is tailored to their areas of interest. For selected residents with previous research experience and with a strong interest in a career as a physician-scientist, the program offers a formal Research Track. This includes unique resources from within the Department of Psychiatry, and is further enhanced via our partnership with the University of Iowa's Physician-Scientist Training Pathway. 
The Psychiatry Research Track at the University of Iowa supports residents' career development as future physician-scientists.  A limited number of residents are admitted to this track as it is designed for those who have developed laboratory or clinical research skills prior to entering residency. 
Through the Iowa Neuroscience Institute, the University of Iowa remains a leader in ongoing neuroscience research. The institute allows for neuroscience research to be conducted collaboratively, amongst scientists in diverse fields of study. A few areas of research include neurodegenerative diseases, molecular psychiatry, and behavioral neuroscience. Additionally, the University is home to the Iowa Neuroimaging Consortium, recognized as one of the founding leaders in the field of neuroimaging. Important research across many domains in psychiatry is also moving forward at Iowa in conjunction with the Hawk-Intellectual and Developmental Disabilities Research Center (Hawk-IDDRC), Iowa Institute of Human Genetics, Scanlan Center for School Mental Health, and the Native Center for Behavioral Health among other vibrant research programs.
Participating residents may tailor this track to meet their individual needs and interests.  Each resident is paired with a mentor who provides supervision and evaluates the resident's progress. Each participant will also become part of the broader Carver College of Medicine Physician-Scientist Training Pathway, and thus benefit from the interaction with trainees from Medicine, Pediatrics, Neurology, and other departments.
Residents participating in the University of Iowa Psychiatry Research Track have the opportunity set aside significant amounts of time during training to develop their research projects.  Our research track residents can set aside up to 8% research time in the first year, 23% research time in their second year, and up to an average of 50% research time over the 3rd and 4th years (residents have the flexibility to decide how they want these years structured).
Additionally, funding support for research projects is available.  The University of Iowa Physician Scientist Training Program provides up to $4,000 pear year to support the costs of research projects for participating residents.  Residents are also able to apply for additional funding for research through multiple internal grant-supported programs including the Institute for Clinical and Translational Science, Hawk-IDDRC, Pappajohn Biomedical Institute Microfinance Program, and Child Psychiatry Mollie Tibbetts Fund.
Mark Niciu, MD, PhD

Assistant Professor of Psychiatry
Faculty Advisor, Psychiatry Resident Research Track
---
Some of our current residents participating in the Physician-Scientist Training Program (PSTP):
Amanda Benavides, MD, PhD
Dr. Benavides is a graduate of the University of Iowa's Medical Scientist Training Program and earned her PhD in Neuroscience.  Some of her work to date includes examining early brain imaging outcomes, with a plan to translate these neuroimaging techniques into projects involving young patients at risk for psychotic disorders as part of the Psychosis-risk Intervention, Education, and Research (PIER) Program, a comprehensive clinical research center at the University of Iowa with goals of addressing the mental health needs of those aged 12-45 who are experiencing unusual changes in their mood, thoughts, perception, and/or behavior.  Other current research interests include an upcoming pilot study on Psilocybin-Assisted vs Ketamine-Assisted Psychotherapy for Alcohol Use Disorder.
Carly van der Heide, MD, PhD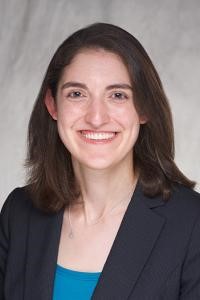 Dr. van der Heide has a special interest in working with individuals with intellectual disabilities. She is completing the residency program's Intellectual and Developmental Disability (IDD) Track and is also involved in research focused on rare genetic mutations that are associated with intellectual disability, epilepsy, and autism. She is interested in using informatics approaches to work towards a better understanding of ways to improve care for individuals with intellectual disabilities. She is originally from California and is a graduate of the University of Iowa Medical Scientist Training Program with a PhD in molecular physiology and biophysics.
Jackson Richards, MD, PhD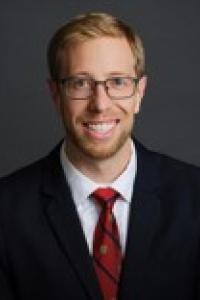 Dr. Richards completed a PhD in oncological sciences before discovering his passion for psychiatry. He brings his background in exploring the mechanism of disease and pursuing personalized medicine to the study of mental illness. His primary areas of interest are mood disorders and interventional psychiatry, particularly neuromodulation. Dr. Richards is currently working with Dr. Nick Trapp on novel applications of rTMS
---
Our INSPIRE T32 Research Fellowship Program also provides meaningful resources and mentorship for individuals beginning a career as a physician-scientist, and research track residents can pursue this fellowship program after residency graduation.
Some graduates of our INSPIRE T32 Research Fellowship Program: 
Nick Trapp, MD
Dr. Trapp is a psychiatrist and neuroscientist at the University of Iowa who specializes in procedural treatments for neuropsychiatric conditions. He is currently the director of the interventional psychiatry service. He grew up in Cary, Illinois in the suburbs of Chicago. He is a graduate of the University of Notre Dame where he received Bachelor degrees in Sociology and Preprofessional Studies, and remains an avid Notre Dame football fan. He completed medical school at the University of Nebraska Medical Center in Omaha, NE, followed by residency training in psychiatry at Washington University in St. Louis. He completed a 2-year neuromodulation and neuroscience fellowship program at the University of Iowa in 2019, where he is currently serving as an Assistant Professor. Most recently, he completed a 1-year Neuropsychiatry and Behavioral Neurology fellowship at Stanford University. Dr. Trapp's research focuses on clinical and translational projects related to brain stimulation.  Interests include neuropsychiatry, neurostimulation, traumatic brain injury, device development, clinical trials, treatment-resistant mood disorders, scientific communication, education, and neuroimaging. Non-clinical interests include sports, hiking, reading, travel, and spending time with his wife and kids.
https://trapp.lab.uiowa.edu/people-0
Aubrey Chan, MD, PhD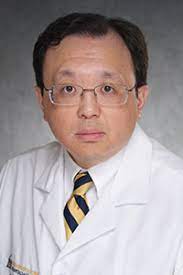 Mental illnesses such as anxiety disorder are very common but have always been challenging to study because most symptoms are subjective, qualitative, and can vary widely across different individuals.  The brain is also more complex than many other organs because different regions of the brain can serve very different functions.  Our goal is to identify objective neurophysiologic patterns that underlie subjective responses to threats and other stimuli.  We are also interested in connecting behavior with body physiology such as changes in respiration.  We use mouse models and implanted electrodes to measure and analyze field potential and individual neuron activity during responses to different stimuli.  Parallel studies in human subjects are also underway in collaboration with the neurosurgery department.
Research areas
Cellular and molecular neuroscience
Systems neuroscience
Behavioral neuroscience
Computational neuroscience
Ion channels
Psychiatric disorders
Frontal cortex
Amygdala
Fear learning
Respiration
In vivo electrophysiology
Transgenic models
Animal behavior 
Learn more about: