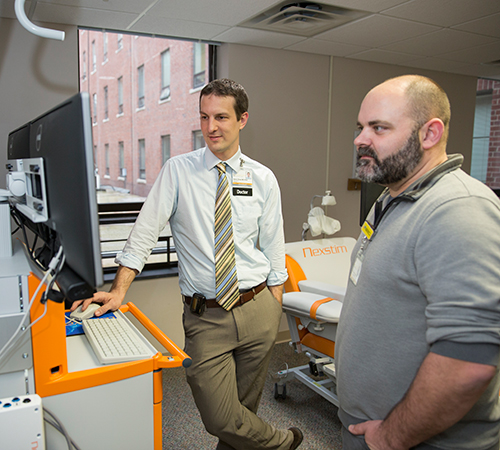 During the fourth year, residents are able to further pursue their own specialized interests. 11 blocks of the year is dedicated for electives where the resident can organize their schedule to include a variety of educational experiences. A resident may choose to repeat past rotations for more in-depth learning, as listed under the first three years. Designing one's own electives is also supported. Options might include work in pharmacology, psychotherapy, community psychiatry, forensic psychiatry, and/or research. One may opt to rotate in settings such as a prison, the partial hospitalization program, a homeless shelter, a drug treatment facility, or the Center for Disabilities and Development. These are only some examples, a resident need only demonstrate that an experience be educational and coordinate with the appropriate people.

The other two blocks of the year, the fourth year resident will function as a senior resident on one of the inpatient psychiatry units or the consult service. The resident will have more of a leadership role and will be responsible for supervising junior residents and medical students. There will also be significant opportunities to teach junior residents and medical students. Fourth year residents on the inpatient units usually carry one to two patients on their own and are not expected to round on the inpatient units on holidays and weekends.

For a half day each week, the resident is allowed to continue treating a sample of his or her patients from the year prior in a continuity clinic. Residents are given greater autonomy with patients during the fourth year, and the continuity of care can be truly rewarding. Two hours each week of psychotherapy patients are also required during the fourth year and are often included in half day a week of continuity clinic. The fourth year resident also continues to learn by attending didactic sessions and providing support on back-up call about twice per block.