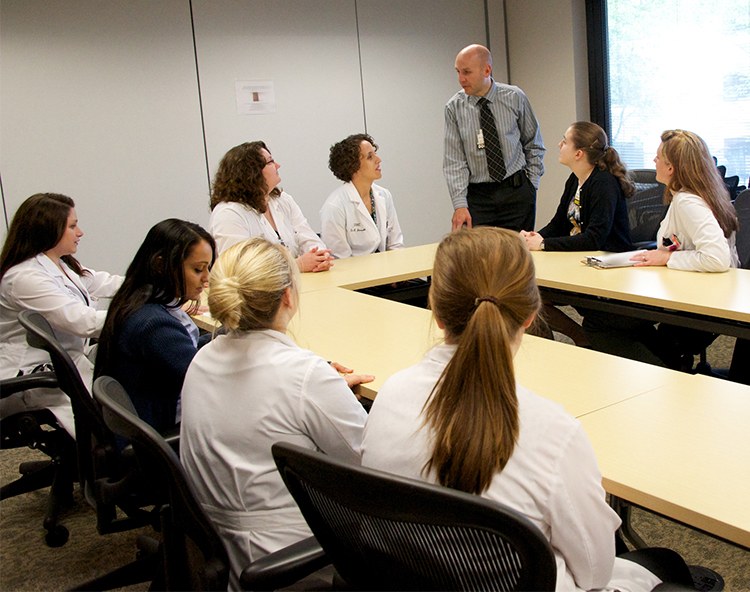 The Department of Psychiatry at the University of Iowa is steeped in a rich history of achievement in residency training, as well as clinical practice, and in the realm of research. The department is thought to be the first university-affiliated psychiatric department west of the Mississippi River.
The four-year psychiatry training program provides each resident with the opportunity to be exposed to and excel in a diverse clinical population. Built on a neurobiological foundation, our program emphasizes the importance of patient care and treatment through an evidence-based approach, providing quality care to each patient in addition to providing each resident with knowledge of current psychiatric practices. 
As a psychiatry resident at University of Iowa Hospitals & Clinics, you will gain in-depth clinical experience in outpatient and inpatient settings from experts in the field. You will get a well-rounded experience which will include working on units specializing in:
Psychotic disorders
Medical psychiatry
Child psychiatry
Veterans psychiatry
Residents also work in an array of outpatient settings, some of which include:
Residents can also do electives in:
---
Not only does University of Iowa Hospitals & Clinics have an excellent adult psychiatry residency, UIHC also has residencies in Child and Adolescent Psychiatry, Family Medicine-Psychiatry, and Internal Medicine-Psychiatry. The University of Iowa is one of two institutions to have both a family medicine-psychiatry residency program and an internal medicine-psychiatry residency program. There are also fellowship opportunities in child and adolescence psychiatry, geriatric psychiatry, and post-traumatic stress disorder. 

Our training ultimately provides residents with knowledge of an array of DSM-5 diagnoses including anxiety disorders, eating disorders, mood disorders, personality disorders, psychotic disorders, and substance use disorders.The experience of working at University of Iowa Hospitals & Clinics is second to none. 
People love working here. Forbes Magazine recently named University of Iowa Hospitals & Clinics the #1 employer in the entire national healthcare industry, based on employee satisfaction.
---
Why Iowa?
Our program will expose you to a broad range patients and learning situations. Additionally, our didactics will provide continued learning in a variety of topics. The community of Iowa City-Coralville will provide a high quality of living in a safe and friendly environment. And you'll find a salary and benefit package that competes favorably with accredited programs in an academic medical setting.
Our Facilities
One of America's best hospitals, UI Hospitals & Clinics is a comprehensive tertiary care center dedicated to high-quality teaching, research, and patient care. The UI Stead Family Children's Hospital is the region's largest children's hospital. The Veterans Affairs Medical Center in Iowa City is a major medical center providing care to veterans of Eastern Iowa and Western Illinois.
Our Graduates
Our residency graduates are offered a wide variety of opportunities in academic medicine, private practice, and fellowships based on their preparation.
Iowa City, Iowa
Few cities can match our opportunities for living, learning, and recreation. It is home of the University of Iowa, Hawkeye sports, and the world-renowned Iowa Writers' Workshop.
Benefits
Our pay and care benefits make us a favorite choice among prospective residents.