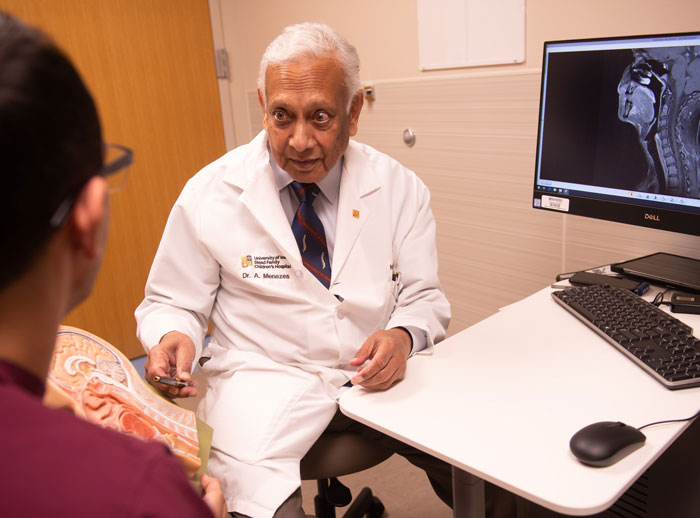 The seven-year neurosurgical residency program at the University of Iowa is designed specifically to prepare residents for a career as senior surgeon-scientists, and future leaders in the field of academic neurosurgery. It is the intent of this seven-year training program to develop world class neurosurgeons.
Residents completing the program will be eligible for certification by the American Board of Neurological Surgery (ABNS) with a goal of a 100 % pass rate on both the qualifying and the certifying examinations. Categorical residents are required to pass the written examination for primary certification, prior to becoming chief resident. Visit the American Board of Neurosurgical Surgery for specifics on board certification requirements.
Clinical competencies
To attain these goals, the program requires residents to develop the following competencies:
A solid foundation of basic and clinical knowledge of neurosurgery.
The ability to provide compassionate and effective care to all patients.
The ability to perform general neurosurgical procedures safely and effectively.
The exercise of clinical judgment to critically select the appropriate course of action in the management of patients.
The capacity to communicate effectively with all healthcare personnel and with patients.
Knowledge about established and emerging biomedical, clinical and cognitive sciences, and the application of this knowledge to neurosurgical patient care.
Ability to analyze practice experience and perform practice-based improvement activities using a systematic methodology.
Apply knowledge of study designs and statistical methodology to the appraisal of clinical studies and information regarding diagnostic and therapeutic effectiveness.
A demonstrated commitment to carrying out professional and administrative duties, adherence to ethical principles and sensitivity of diverse patient populations, required in the surgical profession.
The constant pursuit of improvement in patient care practices by systematic evaluation of current practices in relation to outcomes and to new scientific knowledge.
An awareness of and responsiveness to the underpinnings of the health care system, and the dilemmas of practicing healthcare that is of optimal value and cost effective.
Residents are expected to develop these elements of clinical competence by doing the following:
Assimilating the teaching provided by the faculty
Maintaining an active reading plan for neurosurgical sciences
Practicing their clinical/surgical skills
Attending the educational activities offered by the residency program
Assessments
During the seven years of intensive training, each of the above elements of clinical competence is periodically assessed by direct faculty supervision and by senior resident colleagues with subsequent review by the program director. Re-appointment and promotion to the subsequent PGY year requires a satisfactory progression in the development of these elements of clinical competence.
The educational program of the residency is designed to meet specific goals and objectives at each level of training as outlined in the following table. The program is designed in accordance with the ACGME core competencies. RRC requirements can be found on the ACGME Neurological Surgery site.