We are committed to being a program that is continually improving.  That requires a lot of resident input.  He are the formal ways we get that input.
One per month, residents and residency leadership gather during noon conference to talk about updates within the program and celebrate the successes of our residents.  This time is also used as an open floor forum for residents to bring up concerns and provide input on changes that will help improve the residency program.
Resident Liaison Committee
The Resident Liaison Committee (RLC) is comprised of 15-18 residents that serve as representative for the entire cohort of residents.  The committee provides a forum for residents to voice concerns directly with program administration and participate in the ongoing evolution of the residency program and curriculum.
Program Evaluation Committee
The Program Evaluation Committee (PEC) is charged with ensuring the quality of the residency program by overseeing program evaluation, design, and improvement.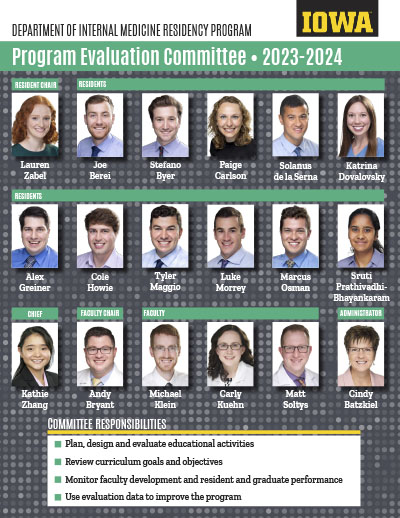 Humanities and Wellness Committee
The Humanities and Wellness Committee (HWC) is comprised of residents in differest stages of the program, one chief resident, and one faculty.  The goal of the committee is to establish a formal framework by which to improve wellness, cohesion between residents, and the residency program.  The committee aims to facilitate team-building by way of mentorship and wellness events.