Monthly/weekly calendar of conferences
Mon
Tue
Wed
Thu
Fri
12-1 HTN JC

(1st Mon/month
Division biospy conference)

12-1 KydSap

(1st Tue/month
Fellows biopsy conference)

Quarterly 1-2: Renal US Training

 

2-3 x/year: CRRT Simulation Training

12-1 IM Grand Rounds

12-1 Fellows curriculum conference
 
 
 
1-2 FACE program (1x/month)

1-2 CRRT curriculum (1-2x/month)

1-2 In the Loop Physiology session (2x/month
 
Divisional/Departmental Conferences
The Division Hypertension and Journal Club conference meets the second and fourth Mondays of every month to discuss and critically appraise two articles prepared by two staff/fellows. During these sessions, state of the art talks are also given.
The first Monday of each month is our Division Pathology Biopsy Conference, in which our renal pathologists share results of recent biopsies for discussion and review.
In Renal Grand Rounds, held every Wednesday evening, a wide array of cases are discussed, including discussions centered on current issues in the transplant and consult services, as well as relevant clinical topics. In addition, multidisciplinary conferences are held with vascular surgeons to address issues in vascular access, renal artery stenosis, and other pertinent issues. The fellows also present their systems-based and quality-improvement projects during this time.
On Thursdays, Internal Medicine Grand Rounds is the weekly departmental conference, which includes discussions on innovative developments, comprehensive updates on key topics in internal medicine, as well as systems-based, clinical pathologic conferences.
Transplant Conferences
| Mon | Tue | Wed | Thu | Fri |
| --- | --- | --- | --- | --- |
| 8-9 Transplant Listing Conference | 8-9 Issues in Transplant CME |   |   |   |
|   | 3-4 Biweekly Combined Transplant Patient Conference / Rounds |   |   | 3-4 Biweekly Combined Transplant Patient Conference / Rounds |
---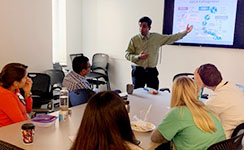 The Transplant multi-disciplinary listing conference is a 90-minute long conference held weekly where newly evaluated transplant candidates and living donors are presented for discussion and approval for transplantation. The Transplant Nephrology fellow will be responsible for presenting the new patients that he/she has evaluated with guidance from Transplant Nephrology Faculty. 
Issues in Transplantation CME conference is a weekly conference devoted solely to issues in solid organ transplantation. Presentations are given by Visiting Professors, by Transplant Center faculty and at least twice a year by the Transplant Nephrology fellow and cover a wide range of issues in the field. These Tuesday sessions are also used for Morbidity and Mortality conferences and for transplant related QAPI meetings. Attendees include faculty and trainees from Transplant Surgery, Transplant Nephrology, Transplant Hepatology, Transplant Infectious Diseases, Transplant Cardiology and Transplant Pulmonology.

Biweekly combined transplant patient conference/rounds is an hour-long conference attended by transplant surgery, transplant nephrology, infectious diseases and hepatology to review and discuss patients admitted to the multidisciplinary transplant floor. The Transplant Nephrology or General Nephrology Fellow presents the patients seen on the Transplant Nephrology Consult Service providing a brief discussion on at least one clinical problem relevant to the patients being managed.
Kyd-Sap Sessions are held the second and fourth Tuesdays of each month. Fellows meet with a faculty facilitator to participate in 10 board review type questions. The sessions are designed to reinforce knowledge and clinical reasoning, key points, and test-taking skills.
Fellows Pathology Conference
The Fellows Pathology Conference is attended once monthly from September to June and provides the fellows with the opportunity to meet one on one with our renal pathologists to enhance skills in renal pathology and interpretation of renal biopsies.
CRRT Education and Simulation
CRRT simulations will be conducted 2-3 times per year.  Fellows and ARNPs will be expected to participate in simulated clinical scenarios and troubleshooting as well as demonstrate knowledge of the CRRT machine, including vascular access, patient fluid management and emergency situations.  The CRRT education team consists of adult (Lisa Antes, Ben Griffin) and pediatric (Jennifer Jetton) nephrologists and pediatric nurses (MaryLee Neuberger, Jen Ehrlich) and ARNPs (Brynna VanWyck).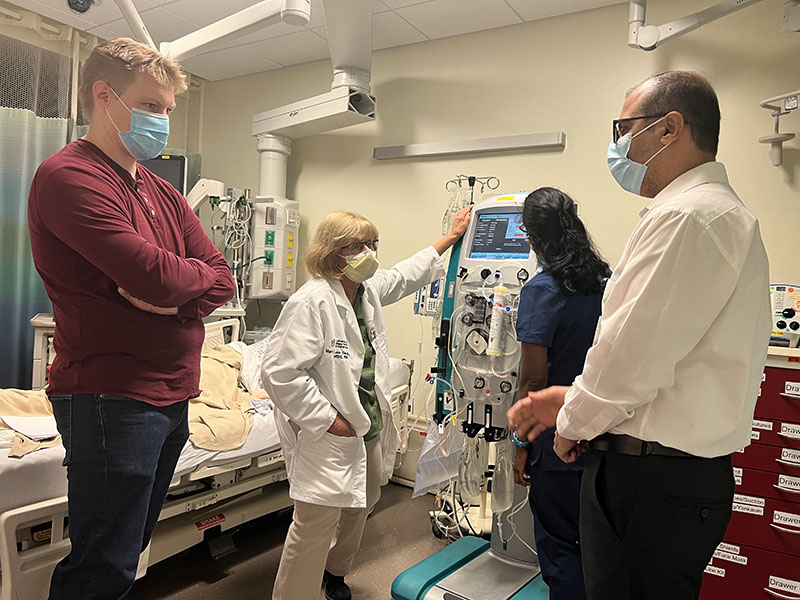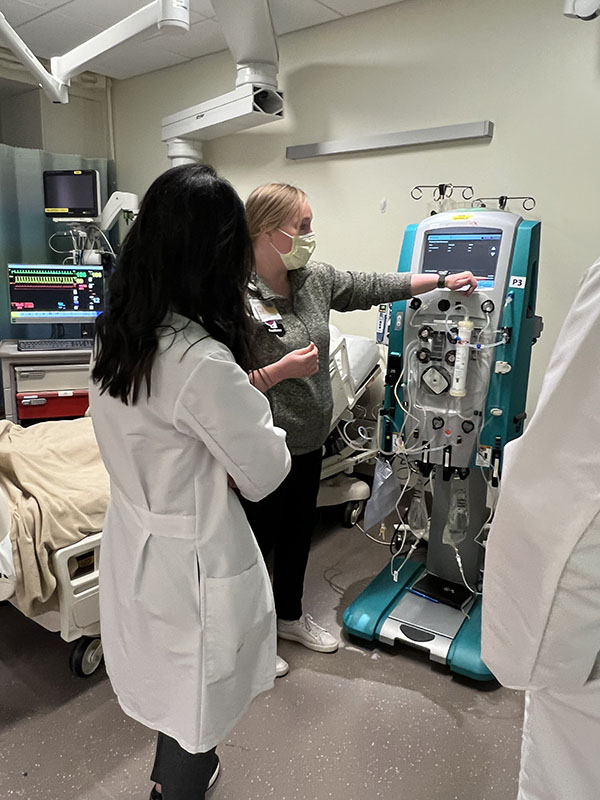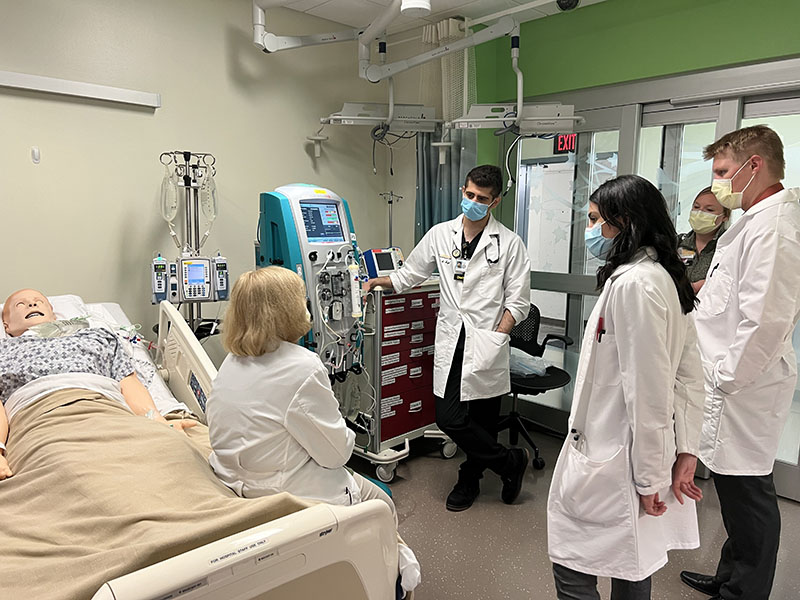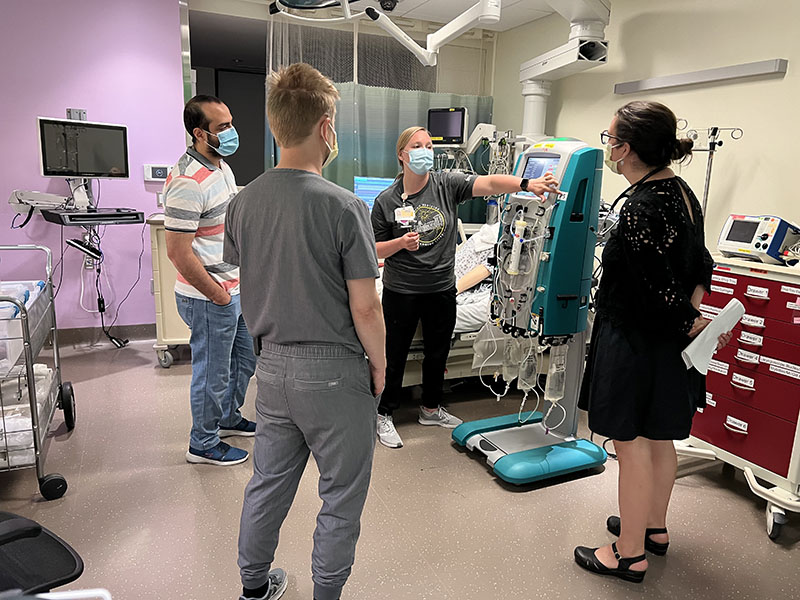 Renal Ultrasound Curriculum
The ultrasound curriculum is a year-long curriculum consisting of 6 sessions. The first 3 sessions are dedicated to basic point-of-care ultrasound (POCUS) exam with the final three sessions focusing on identifying abnormalities, dialysis access evaluation, and other advanced ultrasound techniques. By the end of the curriculum fellows should feel comfortable supplementing their physical exam with POCUS to evaluate volume status, hydronephrosis, and various other pathologies.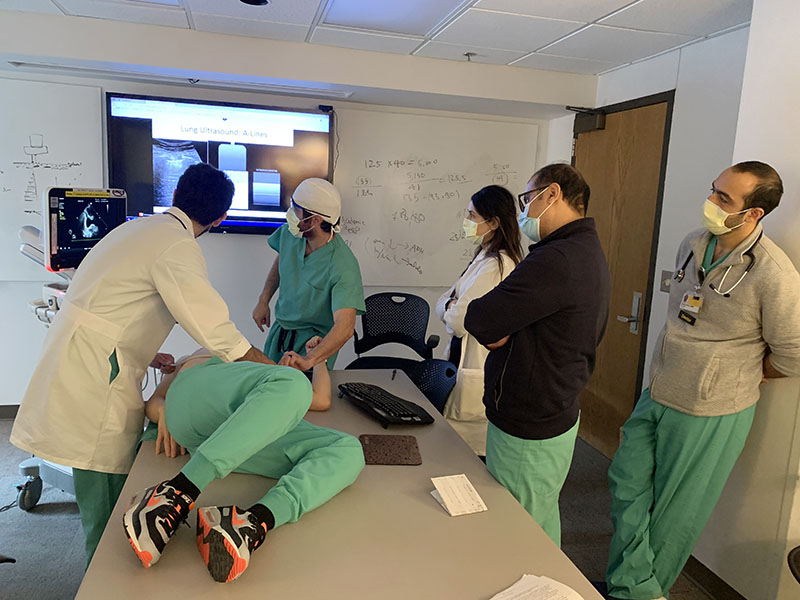 Internal Medicine Fellows' Conferences
The Internal Medicine Fellows' Conferences are held every Thursday from September until June from 1-2 following IM Grand Rounds for all fellows in the Department of Internal Medicine. These include interdisciplinary topics like pain management, family meetings, quality improvement and safety, sleep deprivation and ethics. (view schedule)
The In The Loop Conference is held on Thursdays from 1-2.  Generally, there will be an In The Loop conference twice per month.  These are physiology sessions held by Dr Lisa Antes. 
The Fellows Curriculum Conference is held every Friday. These conferences encompass core topics important to fellows in nephrology. The curriculum is designed to cover a two-year period.
Program Director Meetings
The Program Director meets quarterly with the fellows to discuss issues and deliver updates.
Education
The Nephrology Division values the important role fellows assume as teachers. On the consult service, the fellow will have daily opportunities to teach medical students and residents. For those fellows interested in further enhancing their teaching skills or in pursuing a career in academic medicine, the fellow may apply to additional programs for study during the standard 2 year fellowship training program.
Masters of Medical Education
This degree offers the opportunity to develop a community of academic medical faculty with formal training in education who will create and sustain a culture of educational excellence within the College of Medicine, the university, and the medical education community at large. Read more about the MME program.
Fellows as Clinician Educators (FACE)
The FACE Program is designed to introduce future clinician-educators to a set of skills that may be of use in their career. The program presents concepts of educational design and research, lecture development, evaluation, observation, and feedback. At the conclusion of the program, FACE participants are required to develop a teaching portfolio.