During your residency at Iowa, we will make sure that you have access to the resources you need to practice the habits of healthy living in your everyday life.
Employee Assistance Program
Free and confidential counseling services designed for employees to assist with emotional health, stress, fatigue, depression, suicide prevention, grief, and substance use.
There is a phone line that is answered 24/7 in case of immediate assistance.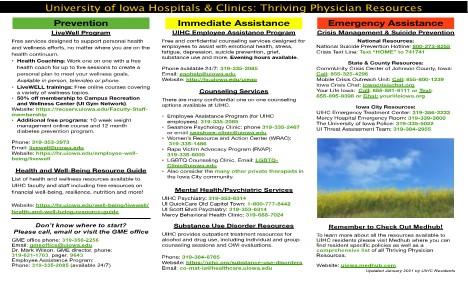 Resident Workout facility
There is a work-out facility with showers in the hospital that residents have access to 24/7.  This facility is operated by the Office of Graduate Medical Education.
A gym membership that gets you access to all University gyms costs $40/month and if you go 4 times per month, the cost goes down to $20/month!
Personal health coaching is also available through this program to help great a personal plan to meet your wellness goals.
For more information, go to https://hr.uiowa.edu/employee-well-being/livewell
Opt-out medical appointments
Started during the 2023-2024 academic year, the Office of Graduate Medical Education works on setting up residents with a Primary Care Provider in a department that they are not affiliated with (for Internal Medicine, that is family medicine).  Our residency program will facilitate you getting to your medical appointments, regardless of what rotation you are on.
There are multiple transportation optins that will take you directly to your car if you are getting done late.  These options include:
GME will also pay for you to take a cab all the way home if you are too tired to drive.  For more information, contact the Graduate Medical Education (GME) Office (gmeoffice@uiowa.edu)