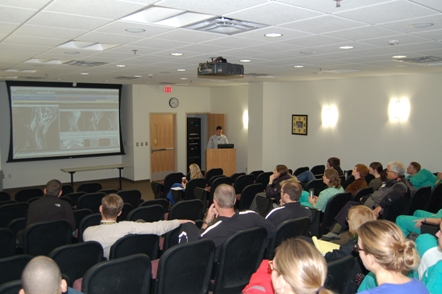 The residency supports five hours of weekly educational conference. This time is protected from clinical duty and all residents are expected to attend. An 18-month curriculum is in place that covers the "Model of the Clinical Practice of Emergency Medicine."
In addition to lectures, the residency incorporates case presentations and small group discussions into the usual content.  The Residency utilizes the "Foundations of Emergency Medicine" cases for interactive case discussion.  Additionally, there are routinely hands on sessions that include simulation cases (including annual SimWars), procedures labs, ultrasound, as well as mock-oral boards.
The residency supports asychronous learning through the utilization of ROSH Review question based learning as well as utilizing AliemU for online learning resources.

22 10 Oct Conf.pdf
Topic: GLAAEM/Team Thursday/MSK
Topic Coordinators: D. Miller/Shekem/Obr/Hogrefe
Location: EM Auditorium, 0070 RCP (Elevator F to LL, left off elevator, left at first doorway, through double doors, left at first hallway)
Journal Club
Journal Club is held monthly at a faculty member's home. The articles are selected by faculty members as well as residents. The objective of journal club is two-fold: to keep up to date on medical literature pertinent to the practice of emergency medicine and to learn the essentials of evidence-based medicine. Food is provided by the faculty host!