The University of Iowa Emergency Medicine Program encourages residents to tailor their own course of study, in order to best prepare themselves for their chosen career focus. Residents have the opportunity to choose electives and their academic project in areas that they have particular interest in. Some opportunities are listed below; we are always interested in developing more!
Emergency Medical Services (EMS)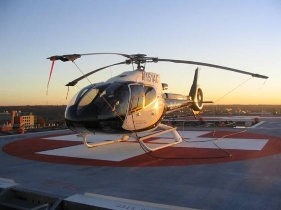 The Emergency Medicine residents get a longitudinal EMS experience starting with RAGBRAI medical coverage as interns, followed by event medicine coverage at Iowa Hawkeyes football games, basketball games, and wrestling matches culminating in a month-long EMS month during the third year. The Emergency Medicine residents also enjoy the opportunity to teach EMS students in the Emergency Medical Services Learning Resources Center (EMSLRC), which conducts EMT and paramedic classes as well as all of the merit badge courses. Finally, as part of a voluntary program, third-year Emergency Medicine residents in good standing can join UI Hospitals & Clinics AirCare as flight physicians where they will perform inter-facility and scene transports of critically ill neonates as well as pediatric and adult patients.
Wilderness Medicine
Several of the Emergency Medicine residents participate in a Wilderness Medicine course that is held every year. The course contains a didactic portion that covers the basics of wilderness medicine including patient evacuation and other pertinent topics. There are also skill labs sessions and a variety of class outings in the area. The course is culminated by a "class-trip" to experience the wilderness environment, in the past this has often been to Colorado.
Ultrasound
The uses of ultrasound for diagnosis and management of patients in the Emergency Department is rapidly expanding. Department faculty are highly skilled at using ultrasound for a wide variety of indications in the Emergency Department. The department recently purchased state-of-the-art ultrasound machines. Additionally, a dedicated FAST machine is used to evaluate all trauma patients. Furthermore, a new ultrasound curriculum for all residents has recently been implemented. Several residents have dedicated elective time to further hone their ultrasonography skills.
Sports Medicine
Emergency departments care for a large number of patients with sports related injuries. Our department is no different. For residents who have a special interest in sports medicine, elective rotations are available. A formal sports medicine fellowship is also available to program graduates.
Critical Care Medicine
One of the goals of the residency program is to train residents to be capable of taking care of any patient with minimal or no back-up. Because of this goal the residency program places a particular focus on critical care medicine. The residents spend several months rotating through a variety of intensive care units at UI Hospitals & Clinics. A specific critical care curriculum has been designed and implemented into the weekly conference schedule. A critical care fellowship is currently in the planning stages.
International Medicine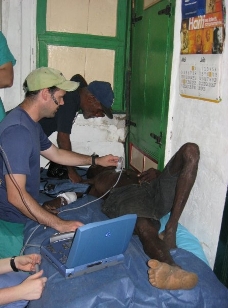 Many of the program's residents choose to spend time working internationally during their residency. Many of the program's faculty members are also involved in medicine overseas. The program has a close relationship with the "Community Health Initiative" in Haiti, and residents and faculty make regular trips there. Residents have traveled to other locations including Israel, India, Tanzania, Nicaragua, Abu Dhabi, and others. Residents can work overseas for up to one month while still maintaining their full pay and benefits.
Rural Medicine
Iowa is predominantly a rural state, with much of the state lacking sufficient emergency medical care. Residents interested in providing care in rural communities have the opportunity to complete electives in medically underserved areas. Residents may also spend a portion of their EMS rotation with rural providers.
Advocacy
Residents have the opportunity to become involved by serving as the residency representative on the ACEP State Board of Directors and may attend ACEP's leadership and advocacy conference. Residents also may attend the Iowa Medical Society House of Delegates. Other opportunities include serving as the Emergency Medicine Resident's Association representative and/or House Staff Council representative.