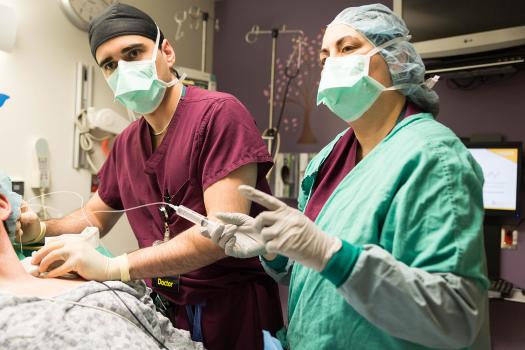 Over the course of a year, the regional service performs approximately 2,600 peripheral nerve blocks. The average anesthesia resident performs around 110 peripheral nerve blocks during the course of the three-year residency.
Residents are exposed to a wide variety of peripheral nerve blocks and a significant number of approaches to a given nerve block (including ultrasound-guided). Each faculty instructor brings a unique perspective to blocks, which enhances the learning opportunity for our trainees.
The regional anesthesia rotation can be viewed as two complimentary halves of a whole. The first half is in the main OR, where residents are exposed to a number of complex blocks and catheter-based regional anesthetic techniques.
The other half is the Ambulatory Surgery Center (ASC) experience where there are more blocks with a more rapid turnover. The ASC experience encourages residents to use neuraxial blocks, both epidural and intrathecal, to cover a wide variety of lower extremity procedures. The pace is much quicker in the ASC (compared to the main OR); consequently, residents become proficient and develop the ability to prioritize the order in which blocks should be performed.
Residents rotate onto the regional service during both the CA1 and CA2 years. In addition, senior residents can elect a regional rotation during their last year of training.
From the first day on the regional service, residents do blocks. Residents are given increasingly more difficult blocks as they demonstrate the ability to safely and efficiently perform blocks and explain the reasons for a given block in a particular patient. CA1 and CA2 residents spend half their time in the main OR and half in the ASC. During the CA3 elective, residents generally spend more time in the ASC.