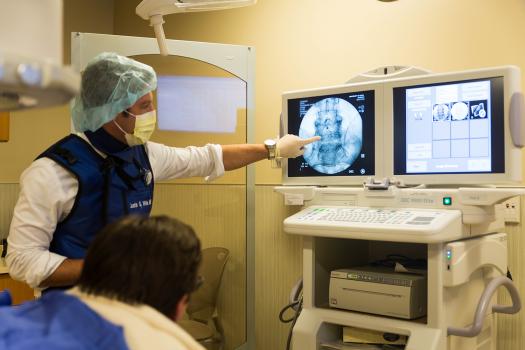 The educational experience at the Pain Management Clinic is very active and diverse. Anesthesia residents rotate for a total of 12 weeks during the CA1-CA3 years.
Residents on the Pain Medicine rotations gain experience in acute, chronic, and cancer pain management.
Chronic Pain Medicine Service
The Pain Management Clinic serves patients with a wide array of chronic benign ailments as well as cancer related pain conditions. Our clinic staff includes physicians, nurses, and a clinical pharmacist, and we work closely with psychology and physical therapy.
Residents are exposed to conservative treatments, blind and ultrasound-guided procedures (such as trigger point injections, peripheral nerve blocks, and joint injections), as well as to interventional fluoroscopically-guided procedures such as spine injections (epidurals, facets, sacroiliac joints), sympathetic blocks and chemical and thermal neurolysis. In addition, intrathecal drug delivery, spinal cord stimulation and cryoablation may be performed in select patients.
There is close collaboration with other department specialties such as neurosurgery, orthopedics, psychiatry, neurology, oncology, and palliative care.
Acute Pain/Regional Anesthesia Service
The Acute Pain/Regional Anesthesia Service actively manages postoperative pain in the in-patient setting. The service also serves as a resource when clinicians from other disciplines have complex pain questions.
Common modalities used for postoperative pain control include:
Multimodal treatments that include intermittent, continuous intravenous drugs

Nurse controlled or patient controlled

Oral medications from differed drug classes
Thoracic and lumbar epidural catheters
Peripheral nerve/plexus catheters
The educational program is multifaceted and includes in-depth clinical exposure, as well as teaching of medical students.
Diverse teaching activities take place:
A weekly didactic lecture series (in collaboration with other departments)

Includes dedicated time for pain medicine topics

Pain Medicine Morbidity and Mortality Conference
Pain medicine journal club
Residents on the pain rotation take call from home approximately every sixth night. The resident on pain call is expected to come into the hospital when epidural catheter placement and/or additional analgesia are required for postoperative pain management. An attending physician is accessible for questions and available to come into the hospital if needed. The OB resident on in-house night call generally handles simple patient problems (changing the PCA settings or changing the pump battery). On weekends, the call resident and the attending pain staff round together in the mornings.