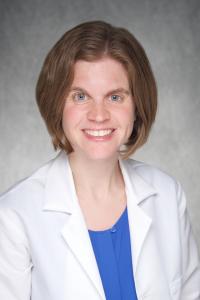 Katie Lutz, MD
Home Country: United States
Medical School: University of Iowa
Residency: University of Iowa Pediatric Neurology
Why Iowa: As a medical student, I completed a year long Wellstone fellowship at Iowa under Dr. Kathy Mathews and Dr. Steve Moore. I enjoyed my time working with children and families with neuromuscular disease, which at that time had very limited treatments. I went on to complete pediatric neurology residency and work on faculty at Iowa during which time there has been exciting emerging therapies available. On faculty, I was providing treatment for spinal muscular atrophy through lumbar puncture, and decided I would like to pursue specialization to be able to care for these patients. I was lucky to be able to join at Iowa, where there are 2 pediatric neuromuscular faculty and lots of opportunity to help with clinical trials.