The Glaucoma Service has four attending physicians at the UIHC: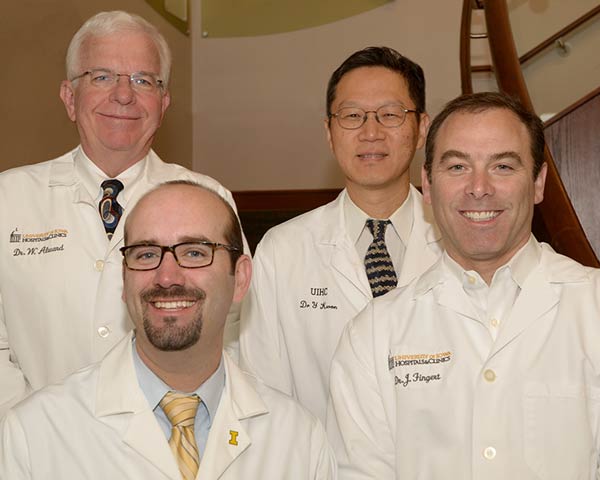 top: Wallace L.M. Alward, MD, Young H. Kwon, MD, PhD
bottom: Daniel I. Bettis, MD, John H. Fingert, MD, PhD   
The two senior members of the faculty (Drs. Alward and Kwon) have both been named as Best Doctors® over the past many years. In 2011 Drs. Alward and Kwon were recognized byU.S. News & World Report as being among the country's best ophthalmologists.
In addition to the fellow, the clinic is staffed by a first and second year resident. There are two technicians who manage patient flow as well as a full-time clinical research coordinator. There are five dedicated perimetrists trained in both Goldman and automated visual field testing who are shared by all services. In the laboratories we are also involved in empowering the next generation of scientists with the skills needed to study the causes, and potential cures, of glaucoma. Our labs span the full range of academics, from undergraduates whose interests in science are just starting, to graduate students earning their Ph.D's in our labs, to postdoctoral scientists who already have Ph.D. degrees and come to Iowa from around the world to perform research within our Center.