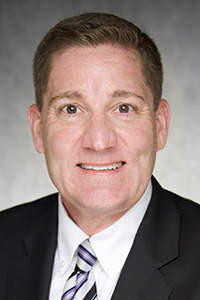 I am glad that you are considering advanced training in family medicine to become the best family physician possible. Our department is one where education, clinical care and research are each a valued service, delivered in the context of teams that strive for greatness. Come explore the fields of opportunity that we call Iowa.
Family Medicine has a great tradition of excellence and a bright future in Iowa. Perhaps you know of us by our Family Medicine Handbook - a vital text for family medicine residents. We have award winning students and student programs. Or perhaps you have read some of the important research produced by our faculty and students.
The University of Iowa is home to the acclaimed Writer's Workshop where future writers hone their craft. Iowa City is a beautiful town embracing the banks of the Iowa River. Iowa is the home of a great "State Fair," River City and a "Field of Dreams." Most importantly, we are the home of a people who value education, humanity and improving the world.
The Department of Family Medicine is a leader within the Carver College of Medicine. Our faculty sit on and head important committees, partner with other departments in research, and actively teach medical students at all years of training. We deliver outstanding clinical care along with award-winning teaching. Education is central to all that we do.
Our residency programs are highly focused on training knowledgeable, competent, caring, and compassionate family physicians who will become leaders for the discipline and society. We practice in the Family Care Center, a patient-centered facility with superb staff that offers efficient and compassionate care through integrated teams. Our curricula are experience based and allow learners the vital opportunities to achieve success with patients, their families, and with the organizations in society that can help individuals and groups effect change.
Likewise, our fellowship programs build leaders. Clinical leadership requires the ability to manage interdisciplinary teams and our geriatrics program focuses not only on geriatrics, but on lifelong skills that facilitate improved organization in the delivery of care to the elderly. We offer an academic fellowship program that focuses on developing skills to support research, scholarship and medical education. We also offer a primary care sports medicine fellowship in collaboration with the University of Iowa Sports Center.
Research is an important part of our department, and we take seriously our responsibility to create new knowledge that helps our patients and the discipline. The goal of our research is to improve clinical care, medical education and the delivery of health services to a rural state.
These are exciting times for the discipline of family medicine and the Department of Family Medicine. Read on and let us tell you more about us.
Daniel Fick, MD
Interim Chair & Department Executive Officer
Department of Family Medicine
University of Iowa