Learn what makes Graduate Medical Education at University of Iowa Hospitals & Clinics a great place to train and learn.
Why Choose University of Iowa Hospitals & Clinics
---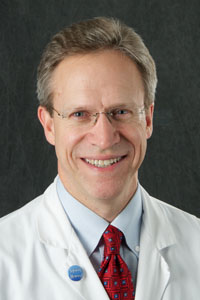 Mark Wilson, MD, MPH, Associate Dean for Graduate Medical Education
Dr. Wilson provides context to our innovative approaches to best prepare trainees in an exemplary clinical learning environment.
---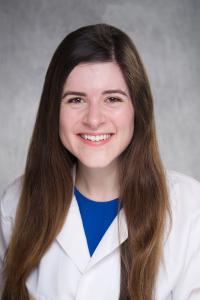 Sarah Watson, MD, OB-GYN Fellow
Dr. Watson talks about the importance of mentorship at Iowa and a unique innovation funding program open to residents and fellows.
---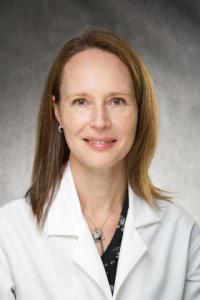 Julia Shelton, MD, MPH, Program Director for General Surgery
Dr. Shelton shares the value of mentorship and research opportunities at Iowa.
Eligibility criteria for applicants of a GME residency or fellowship training program are:
Graduate from one of the following:

United States or Canadian medical school accredited by the Liaison Committee on Medical Education (LCME)
United States college of osteopathic medicine accredited by the American Osteopathic Association (AOA)
medical school outside the United States or Canada with:

a valid certificate from the Educational Commission for Foreign Medical Graduates (ECFMG) and have a passing score for Step 1 and Step 2 of the USMLE,
be a U.S. citizen, a legal permanent resident, or hold a visa which provides eligibility to work in the U.S. Typical visas are J-1 (requires Steps 1 and 2 of USMLE and ECFMG certification) and H1-B (requires departmental approval, Steps 1, 2 and 3 of USMLE, and a permanent Iowa medical license)

Meet Iowa Board of Medicine licensure requirements
All applicants must also meet program eligibility requirements as defined by the ACGME's respective RRC (for accredited programs) or the department (for non-accredited programs).
Eligible applicants should apply directly to the residency or fellowship training program. Deadlines and application criteria vary; review those requirements at the individual program websites. Each program has specific guidelines for conducting interviews, what to expect during the interview, and American Board of Medical Specialties certification requirements.
Just be yourself
The secret to a successful residency interview is to be yourself. Mark Wilson, MD, MPH, associate dean for Graduate Medical Education, offers a couple of easy steps to follow for making your interview at Iowa a success.
The United States Medical Licensing Examination (USMLE) is a three-step examination for medical licensure in the United States and assesses a physician's ability to apply knowledge, concepts, and principles and to demonstrate patient-centered skills, that are important in health and disease and that constitute the basis of safe and effective patient care. 
Medical licensing authorities in the U.S. require IMGs to be certified by the ECFMG in addition to other requirements, in order to obtain a medical resident license or permanent license to practice medicine. In the United States and its territories, the individual medical licensing authorities ("state medical boards") of the various jurisdictions grant a license to practice medicine. Each medical licensing authority sets its own rules and regulations and requires passing an examination that demonstrates qualification for licensure.
Results of the USMLE are reported to these authorities for use in granting the initial license to practice medicine. The USMLE provides them with a common evaluation system for applicants for initial medical licensure. The USMLE is sponsored by the Federation of State Medical Boards of the United States, Inc. (FSMB), and the National Board of Medical Examiners®(NBME®)
The University of Iowa requires all international medical graduates (IMGs) to be certified by the Educational Commission for Foreign Medical Graduates (ECFMG).

The ECFMG evaluates the qualifications of IMG physicians and then provides certification before they enter U.S. graduate medical education (GME).  To meet the examination requirements for ECFMG Certification, an IMG physician must:
1. Satisfy the medical science examination requirement: USMLE Exam Step 1 and Step 2 CK (Clinical Knowledge)
2. Satisfy the clinical skills requirement: USMLE Exam Step 2 CS (Clinical Skills)

The following visas are acceptable for training purposes:
H-1b  (All H1-b applicants must pass USMLE Exams Step 1, 2 and 3 and acquire an Iowa medical license.)
J-1    (All J-1 applicants must pass USMLE Exams Steps 1 and 2 CK (Clinical Knowledge) and USMLE Exam Step 2 CS (Clinical Skills).)
J-2    (with Employment Authorization Document (EAD))
E-3    (Australian citizens only)
F-1    (with Optional Practical Training (OPT) status)

Some training programs restrict certain visas; check with the specific training program to verify what visas it accepts.
Global Learning Opportunities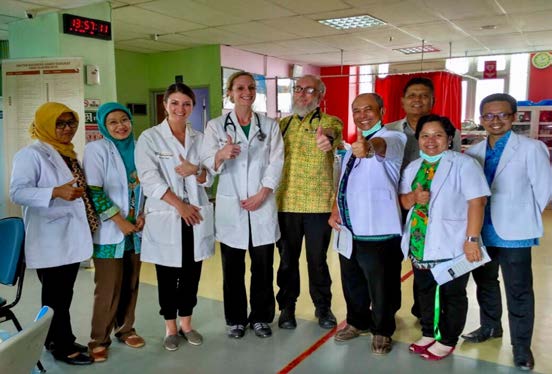 A growing number of UI Health Care residents are choosing to add a global health experience to their training. And, while the logistics for training abroad don't fit every training program, there is an institutional commitment to make meaningful international training opportunities possible for our residents.
Based on the experiences of about 100 UI Health Care residents who have completed international training over the past five years, here are some things for you to consider.
Picking the time
It's best to wait until after the first year of residency. Residents feel better equipped to handle the rigors of practicing in a global setting after the fundamental training of their first years. Your program director will have guidelines for timing that has worked best for past residents.
Choosing the right duration
Due to employment policies, the maximum time allowed out of the country for residency training is one month. Your program director will work with you to find an arrangement, from two to four weeks, that will fit with your other training rotations.
Begin planning early
Planning for an international training opportunity begins several months in advance of departure. The GME International Committee has assembled a set of resources to help you prepare for a successful international training experience. You will need plenty of time to determine where you will go, what you will do, and who you will work with. You will need to be supervised, just as you are in your residency, by someone with appropriate training and a commitment to your education.
The application process
You must have approval from your residency program director and participate in a brief orientation process coordinated by the GME International Committee. Your program director will connect you with the necessary application materials.
Funding your experience
Institutional support funds for international training are limited but growing. You should plan to be responsible for your entire costs for travel and accommodations. Then, explore possible funding from your department and the GME International Committee. For budget planning purposes, your time spent training abroad won't affect your normal monthly salary or benefits. Depending on your setting and host institution, you may need to secure supplemental malpractice insurance, as your malpractice coverage from UI Hospitals and Clinics does not cover you while abroad.
Finding the right opportunity
There are various ways residents connect with training opportunities abroad.
Past experience – Several residents have used contacts from past travel abroad or international learning experiences they've had during medical school to arrange a training opportunity.
A faculty mentor – Faculty members in several of our departments donate their expertise through international medical programs. Frequently, they will invite trainees to be part of a medical team addressing specific health needs in various parts of the world.
Institutional affiliations – The UI Carver College of Medicine has contacts and partnerships with institutions around the globe. Your program director and members of the GME International Committee can help you approach these resources for possible training opportunities.
The benefits of global health training
The rewards for training in a global health setting are both personal and professional. For many participants, the experiences have helped build a foundation for an international focus to their professional practice.
Here's how Chris Buresh, MD, an emergency medicine physician and head of our GME International Committee, describes the takeaways from his frequent work in Haiti:
"You have less testing or imaging available, so you have to rely on making a solid diagnosis based on health history and physical exam. Because of the circumstances, you may be working more outside your comfort zone. That really helps to expand your knowledge base."
"I'm a mid-career physician, and it's common to get caught up in all the forms and competencies our practice requires. Working in a global setting reminds me why I went into medicine in the first place. The real emphasis of my work in Haiti is on taking care of people, here and now, and doing the right thing for them."
"In our crazy world, where everything might seem like it's going bad, opportunities like this show me there is hope in the basic humanity of taking care of one another."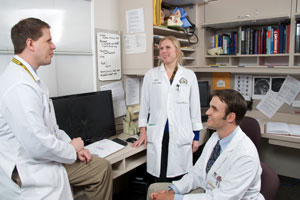 GME contracted residents and fellows must apply for a license from the Iowa Board of Medicine at least three months in advance of the training start date. The Iowa Board of Medicine will not accept a license application more than six months in advance of the contract start date. Every resident or fellow physician or dentist is responsible for acquiring a medical license prior to practicing medicine at UI Hospitals & Clinics. State of Iowa law prohibits practice without the proper license.
The GME office recommends all residents and fellows apply for a license through the Iowa Board of Medicine by using the Uniform Application (UA). This application provides state specific instructions for Iowa. The Iowa Board DOES NOT require applicants to use the Federation Credentials Verification Service (FCVS) as part of the application process, though they do accept FCVS if you choose to use their service. For recent medical school graduates, the Board strongly recommends applicants NOT utilize FCVS.  
Resident Licensure
The Iowa Board of Medicine offers a resident license authorizing the licensee to practice as an intern, resident or fellow while under the supervision of a licensed practitioner of medicine and surgery or osteopathic medicine and surgery in a board-approved resident training program in Iowa. This license expires on the expected date of completion of the training program as indicated in the licensure application. The license becomes inactive when a physician leaves the program or can be extended if completion of the program has not been met by the expected date.
Permanent Licensure
Some fellowship programs require a permanent license. Contact your program director to confirm whether a permanent license is appropriate. If you are eligible to moonlight, you will be required to have a permanent license.
Specific licensing questions can be directed to the Iowa Board of Medicine.
Medical Partners is a nonprofit group of resident and fellow physician and dentist spouses and significant others training at the University of Iowa Hospitals and Clinics. Members of Medial Partners support the families through interest groups, social functions, facilitating community life information, and philanthropy service events.
Teaching and Learning Resources
Each spring the Rising Chief Leadership Symposium provides an opportunity for future Chiefs to meet peers and receive training about leadership skills as they transition from a trainee/mentor relationship to a peer relationship with faculty.
 
The Chief Resident Leadership Development Program (CRLDP) provides current Chiefs with additional knowledge about leadership skills and opportunities for application during the Chief year. The program builds upon the introductory foundation gained during the Rising Chief Resident Leadership Symposium. The certificate program consists of interactive educational seminar sessions, reflective assignments, leadership assessments, and mentoring meetings with accomplished leaders.
 
Residents as Teachers is a resource guided by teaching consultants from the UI Carver College of Medicine. There are multiple methods used to assist residents in fine-tuning their teaching skills. One method is to provide departmental workshops on topics such as feedback, one-on-one small group, and interactive lecturing. This is based on needs assessments from residents and faculty. Consultants also provide individual one-on-one evaluation of teaching skills through direct observation and videotaping with feedback and action plans. Another approach is to provide teaching skill training during program retreats.
 
Additional information on services provided by the Office of Consultation and Research in Medical Education.
Ready to explore available residencies and fellowships?