Currently, the Vascular Interventional Radiology (VIR) Fellowship Program at the University of Iowa Hospitals & Clinics offers two, one-year ACGME-accredited fellowships in VIR.  
The VIR Fellowship provides a strong emphasis on clinical care and procedural training at a leading academic institution that will prepare the trainee for practice in either private or academic settings. UI Hospitals & Clinics is a leading busy tertiary care hospital and level-1 trauma center, an American Cancer Society Center of Excellence, and a major transplantation center. Fellows will thus be exposed to broad spectrum of cases in interventional oncology, vascular disease, GI, GU, women's health, and pediatric intervention.  The trainee will be expected to perform over 1000 VIR procedures during the year.
Case mix includes:
TIPS
PTC
PCN
TACE
Radioembolization
Tumor ablation
Entire embolotherapy spectrum
Peripheral and visceral arteriography
Thrombolysis and mechanical thrombectomy
Balloon angioplasty
Stenting
Atherectomy
A unique feature of our program is the close rapport between IR and vascular surgery, allowing the fellow to be closely involved in many aspects of peripheral arterial disease diagnosis and management. The fellow will have a one-month rotation on vascular surgery, further enriching his/her experience in vascular care, including exposure to vascular interventions, carotid stenting, and endovascular aneurysm repair. The new state-of-the art University of Iowa Stead Family Children's Hospital opened in early 2017.
ACGME Program Requirements for GME in Vascular and Interventional Radiology
In 2020, the current VIR fellowship will be replaced by the IR Indepedent training program.
There will be three pathways at that time to DR/IR board certification: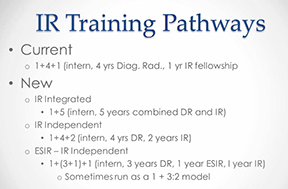 Resources