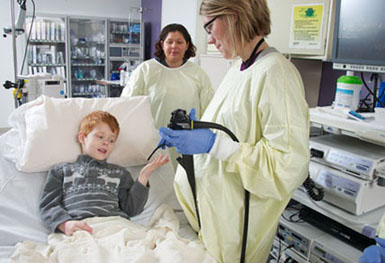 Our inpatient Pediatric GI unit, which is run by pediatric residents, is quite active with over 300 admissions per year. In addition, over 250 consults from various other inpatient services, and over 4000 patient clinic visits are conducted annually. We have an extensive referral base not only within the entire State of Iowa, but also from southern Minnesota, southwestern Wisconsin, western Illinois, eastern Nebraska, and northern Missouri. In addition, fellows participate in some outreach clinics within the State of Iowa. 
As part of the Pediatric Feeding Disorder clinic, our team works with a renowned child psychologist and behavioral feeding specialist, Dr. Linda Cooper-Brown, in managing children with difficult behavioral feeding issues. We also enjoy having an excellent, friendly relationship with our pediatric surgery division.
Fellows perform or are directly involved in a diverse number of procedures. All procedures are supervised by faculty. These include: 
Diagnostic and therapeutic upper endoscopy for foreign body removal, variceal banding, sclerotherapy, stricture dilatation
Diagnostic and therapeutic colonoscopy for polypectomy, sclerotherapy, stricture dilatation
Capsule endoscopy placement and interpretation
Percutaneous endoscopic placement and interpretation
Endoscopic/fluoroscopic guided gastrojejunal feeding tube placement and replacement
Percutaneous liver biopsies
Abdominal paracentesis
Breath tests
Intraluminal esophageal impedance and pH probe placement and measurement.
Most procedures are performed in our pediatric GI endoscopy unit. The assistance of a specialized nursing sedation team, supervised by a pediatric anesthesiologist, is available for the majority of our procedures. In high risk or critically ill patients, general anesthesia is available. We perform more than 400 upper endoscopies and more than 150 colonoscopies per year on pediatric patients.