OVERVIEW:
The University of Iowa Hospice and Palliative Medicine Fellowship was accredited by the ACGME in 2013 and is affiliated with the University of Iowa Internal Medicine Residency, an ACGME-accredited training program.
MISSION & GOALS OF FELLOWSHIP:
The mission of our fellowship training program in Hospice and Palliative Medicine at the University of Iowa is to provide an academically and clinically rigorous training program. This includes the essential elements of hospice and palliative medicine as well as advanced training in clinical palliative medicine, research, and administration.
The focus of the program is to provide the trainee with clinical knowledge and judgment, professionalism, interpersonal skills, and abilities that will continue to mature throughout their career.
Fellows will train with Hospice and Palliative care interdisciplinary teams.   They will be exposed to a diverse patient population, gaining skills in comprehensive care of these patients in inpatient, outpatient and home settings.
---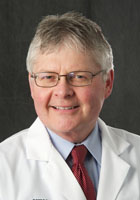 A personal message from Dr. David Clark, Associate Program Director
"Greetings from the University of Iowa! Thank you for your interest in the University of Iowa HPM Fellowship. The fact that you are at this webpage confirms that you have thought very seriously about Hospice and Palliative Medicine and the role it will play in your future. You will have a number of outstanding programs throughout the United States to consider as you look for the one that best matches your personal and professional goals.
The educational experience that we can offer you at the University of Iowa will expose you to innumerable complex clinical issues and challenges at the only tertiary academic medical center in the state. You will have the opportunity to join a team that is committed to supporting individual patients and families through all aspects of their suffering; but also a team that supports each other. Our faculty is experienced, approachable, and knowledgeable. They desire that every fellow acquire the skills, knowledge, and perspectives that will contribute to long-term professional and personal success. Regardless of where your journey takes you from here, I extend my best wishes as you pursue a career in Hospice and Palliative Medicine."
W. David Clark, MD
Supportive and Palliative Care
Clinical Associate Professor
Departments of Family Medicine and Internal Medicine
Associate Program Director, Hospice & Palliative Medicine Fellowship
Carver College of Medicine
University of Iowa