Ryan Lechtenberg, MD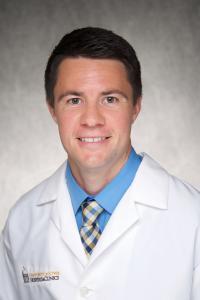 About
Medical School
University of Iowa Roy J. and Lucille A. Carver College of Medicine

Why Iowa
As a medical student at Iowa, I was able to see first-hand how well the faculty and residents work together and are able to create a great learning environment. This combined with my love for Iowa City made it an easy decision to stay here for residency. Downtown Iowa City has great restaurants and frequent events, and Hawkeye sporting events are always a fun time.
Professional/Research Interests
Career goals: After residency, I plan to be a general neurologist in private practice.
Research interests: During residency, an area of focus for me is both EMG and EEG.
More About Me
I enjoy hanging out with my wife and son, Hawkeye sports, staying active, trying local breweries