Catherine Coyne, MD, She/Her/Hers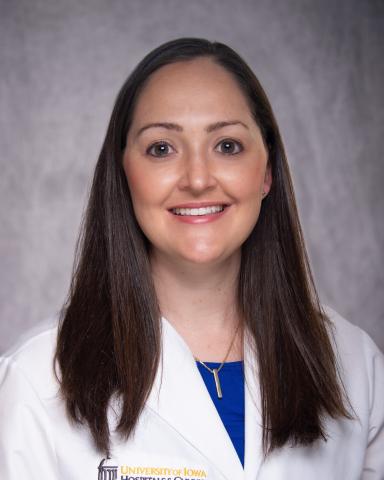 About
Hometown
Scottsdale, Arizona
Medical School
University of Arizona College of Medicine Phoenix

Residency
University of Iowa General Surgery Residency

Why Iowa
The family feeling and culture here at Iowa stood out during my interviews. The comradery amongst residents, fellows, staff, and the Surgery Department as a whole is exceptional. Also, Iowa city is a great place to live with the University and close proximity to other major cities. 
Professional/Research Interests
Hand Surgery, Transgender Top Surgery, Soft Tissue Reconstruction
Publications and Presentations
Publications
Abtahi AR, Coyne C, Odobescu A. Head and Neck Reconstruction with Venous Flap: A Case Report. Plast Reconstr Surg Glob Open. 2021 Sep 17;9(9):e3816

Allan LD, Coyne C, Byrnes CM, Galet C, Skeete DA. Tackling the opioid epidemic: Reducing opioid prescribing while maintaining patient satisfaction with pain management after outpatient surgery. Am J Surg. 2020 Oct;220(4):1108-1114.

Book Chapter: Hibner, M., Coyne, C. (2016). Groin Pain Etiology: Pudendal Neuralgia. In: Jacob, B., Chen, D., Ramshaw, B., Towfigh, S. (eds) The SAGES Manual of Groin Pain. Springer, Cham.
Presentations
Society of Black Academic Surgeons Poster presentation: Enhanced recovery protocol post mastectomy: Utilizing ultrasound guided Pec I and II blocks to decrease opioid use, New York, New York. 2019

University of Iowa Resident Research Day: Middle and low rectal cancer: what factors contribute to permanent stomas. Iowa City, Iowa 2019

Association of Program Directors in Surgery: Poster Presentation: Incorporating preference card creation into surgical resident education and evaluation of factors driving supply choice. Boston, Massachusetts 2016

International Pelvic Pain Society Conference: Quality of Life of Chronic Pain Patients after mesh Placement. San Diego, California 2015

National Resuscitation Conference: Conference Simulation Team for Medical use of Google Glass. Las Vegas, Nevada 2014