We are asked a number of questions about the residency program, about Iowa City, about the University of Iowa. Below are some short answers. You may find much more about Iowa, Iowa City, the University of Iowa, and general information about residencies at Iowa at the GME web site.
What is Iowa City Like?
Where is Iowa City?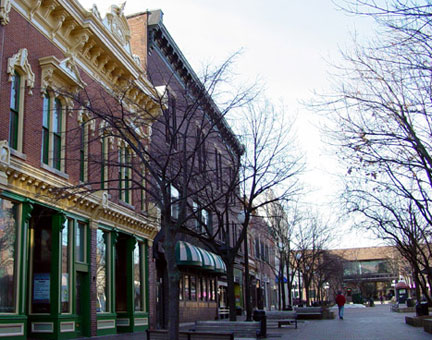 Iowa City is 220 miles directly west of Chicago on Interstate 80. It's also within a 4 to 5 hour drive to Milwaukee, Madison, Minneapolis, Omaha, Kansas City and St. Louis. It has the cultural, educational, social and political opportunities of a bigger city with the values and ambiance of a midwestern town. It's clean, safe, nothing is farther than a 20 minute car ride, it has a great city bus system (with bike racks!), wonderful parks, bike and hiking trails, sports, schools and even sailing. Those who have lived here and left, frequently return because what they were looking for was in their own back yard.We're not the only ones who think Iowa City is great:
Iowa City is frequently recognized as a best place to live by national publications. Since 2010, Iowa City has appeared on more than 40 such lists, including being named as:
"Healthiest Town in the United States," Men's Journal, February 2010
#2 "Best Places for Business and Careers" list (smaller metros), Forbes, April 2010 
#5 "Top 10 Cities for Book Lovers," Livability.com, September 2011
#6 "The 10 smartest cities in America", MarketWatch, July 2015.
"Top City for Starting Over in 2012," TheStreet.com, January 2012
#10  "10 Best Cities for Singles," Kiplinger, April 2012
#3 "Best place to live in America," Outside Magazine, August 2015
Livability.com ranked Iowa City 9th on its list of Top 100 Best Places to Live 2016
 In 2008, Iowa City became the world's third United Nations Educational, Scientific and Cultural Organization (UNESCO) City of Literature, following Edinburgh, Scotland and Melbourne, Australia. The Iowa Writers' Workshop, based at the University of Iowa, is one of the world's foremost programs in creative writing; workshop alumni have won 12 Pulitzer Prizes and four alumni have been named U.S. Poet Laureate. 

What's the weather like in Iowa City?
It depends on what you like. Our weather was a lot better than the East Coast this year! For about two weeks every winter it's very cold and windy and for two weeks every summer it's really hot and humid. For the rest of the time it's pretty nice. We consider our weather character building.
The average warmest month is July and the coolest month is January.
High temperatures between May and September are between 73 and 87 degrees (Yearly Avg. 60.9).
The average low temperatures between October and April range from 15 degrees to 42 degrees (Yearly Avg. 39.8).
Average number of sunny days is 166.
The highest recorded temperature was 104°F in 1988.
The lowest recorded temperature was -26°F in 1996.
The maximum average precipitation occurs in June, average annual rainfall is 35.2".
Average snowfall is 28" (with an average of 16 days of measurable snowfall per winter).
Check today's weather (from the National Weather Service)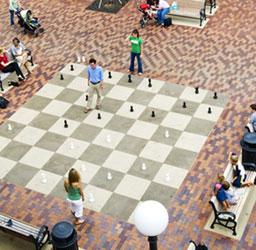 What is there to do in Iowa City when you're not working?
There are 15 different festivals and art fairs, plus concerts and race events. There are many music venues, sports events and neighborhood street fairs and garden walks. We also have a really big mall and several smaller ones, 50 parks, 9 golf courses, 6 public tennis courts, 6 public pools, some lakes and a reservoir with trails, camping & boating. There are hiking and bike trails, some famous bookstores, a ton of galleries and excellent museums. There are half a dozen or more performing arts venues. There's always something going on.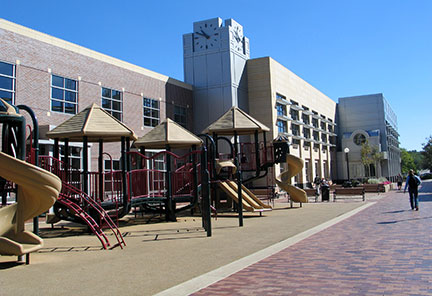 What's Iowa City like for kids and families?
There's ice skating, bowling, organized sports, public parks, miniature golf, a great public library, a toy library, fun centers, swimming pools and 3 beaches, 9 museums including a children's museum, dance companies and public recreation centers that feature many activities for kids and families at little or no cost. We also have 20 movie screens and 50-licensed daycare providers. The Iowa City schools are perennially ranked among the top schools in the nation. Iowa City is unique in the facilities and services available for individuals with disabilities. Many families who have a family member with a disability are reluctant to leave Iowa City because they cannot duplicate those services in another location.
It's a great place to live, but don't just take our word for it, see what others are saying:
Are there any job opportunities for my spouse/significant other?
Yes, in August 2019, Iowa City had an average of 2.1% unemployment (compared to 2.8% in the state of Iowa and 3.7% nationwide). Also check out The University of Iowa's Dual Career Network.
Is this a family friendly program?
We love children and support residents in their efforts to balance work with family life. We have several dual physician resident and faculty families and understand the stresses. Women residents receive up to 6 weeks of paid maternity leave after delivery. Men get 5 working days off for paternity leave. The house staff health insurance policy provides full coverage for spouses and children. There are several childcare facilities near the hospital and one on-site. The training program also has activities during the year where all family members are invited.
How ethnically diverse are the patients?
Like a lot of university towns, we have a large international community. Growing cultural diversity is another reason Iowa City is an interesting place to live. Diversity is embraced and celebrated with city and university events, festivals, clubs and programs. The University works hard to recruit and retain minorities with its affirmative action policies. About 15% of Iowa Citians are non-white, this percentage is paralleled in our clinics.
What are the fellowship opportunities available?
Ten to 12 fellows train in our accredited fellowship programs each year. We have fellowships in all of our sub-specialty areas. Most are one-year fellowships but 2-year fellowship opportunities are available as well. About half of our residents enter fellowships immediately after graduation.
Is there sufficient patient volume so that I can have multiple exposures to a variety of eye diseases and conditions?
Our patients represent all age groups and all socioeconomic strata and they present with virtually all acute and chronic conditions of the eye.
With nearly 64,000 annual patient visits you will see plenty of the most common eye conditions and many of the less common ones as well. Our clinical practice serves the general eye care needs of the local community and the sub-specialty needs of the region. The UIHC is a tertiary care center and our department receives referrals for specialized services from Iowa and neighboring states. Some patients travel from outside the continent to be seen by our physicians.
In an average year, patient visits per sub-specialty are approximately:
Cornea: 7,000
Comprehensive Ophthalmology: 14,400
Glaucoma: 7,300
Neuro-Ophthalmology: 2,650
Oculoplastic Surgery: 6,300
Contact Lens: 4,100
Pediatric Ophthalmology: 9,800
Retina/Vitreous: 20,000
Vision Rehabilitation: 3,700
Other: 1,600
The surgical statistics for ophthalmology resident graduates will give you an idea of how many surgeries you may encounter over your three-year residency: Surgical Statistics for Ophthalmology Residency Graduates.
What is the program's balance between primary and specialty care?
We seek to provide each resident physician with a sufficiently broad experience that he or she can choose wisely among all the options to pursue a career in ophthalmology in private practice, group practice, or an academic career. About half of our graduates go on to private practice while the remainder go on to fellowships in ophthalmic subspecialties or academic ophthalmology.
What are the on-call expectations of ophthalmology residents?
Call is divided into first call, backup call, and faculty call for Retina, Oculoplastics, Neuro-ophthalmology, as well as general call. Resident call schedules are prepared by the residents. The week day calls are split by the first and second year residents. Weekends and holidays are covered by first year residents. Third year residents provide back up call. Residents are not placed on the call schedule during their first 2 months in the department. At-home call must not be so frequent as to preclude rest and reasonable personal time for each resident. Residents taking at-home call are provided with one day in 7 completely free from all educational and clinical responsibilities, averaged over a 4-week period. (call schedule)
What makes a great resident? 
As part of an interview for Pearls of Ophthalmology, our residency program director, Dr. Tom Oetting addressed this question and an excerpt from this interview follows:
"A great ophthalmology resident is hard to define but when you see it, you know it. A great resident has infectious enthusiasm for our great profession and the science of the eye. He or she enjoys working with patients and wants more clinic opportunities, more surgical opportunities, and more chances to learn. A great resident makes our patients feel cared for and special. A great resident is coach-able (i.e. learns from his or her mistakes and moves on). A great resident is a great teacher and creates a sea of medical students interested in ophthalmology. A great resident gets things done when they said they would. A great resident does their dictations, notes, work hour requests, faculty evaluations, and the other important administrative jobs on time and with no fanfare. A great resident gives more than he or she takes. And like a good camper, a great resident leaves our program better than when they arrived"
Is there a research requirement for graduation?
Yes, participation in research is an integral part of the training experience. During the first year, residents develop a research plan for conducting at least one research project. All projects are done in collaboration with a faculty preceptor who will supervise all phases of the project. Each resident presents the results of his/her research at the department's resident and fellow research day. The initial presentation is made in the spring of the first year even when the results are in the pilot or preliminary stages. Updated presentations are made in the spring of subsequent years revealing the maturing or completed project. While some projects will not result in a published manuscript, our residents are co-authors on a number of published papers each year.
What's so good about Iowa?
Our faculty are really nice, and exceptionally dedicated teachers too.
We have a diverse faculty with wide-ranging clinical and research interests.
Some of our faculty are internationally known and have been with us for many years.
We also have several bright young faculty who bring new interests and enthusiasm to the practice.
You work with and learn directly from faculty on all rotations.
All the subspecialties are represented in our training program.
Our programs, clinical, research, and teaching are consistently ranked in the top ten nationally.
The clinics, hospital, and inpatient units are located within a single hospital, with 1 rotation per year at the VAMC located just across the street. The ASC is conveniently located directly above the clinic at both locations. (No hours of commuting through traffic daily to get to work.) .
You have access to a locked resident room with your own desk, file, phone, internet port, and personal space.
A dedicated ophthalmology library located directly below the clinic with a world-class librarian.
A state-of-the art EMR system (EPIC), with the ability for both remote and mobile access
Our residents are great people and they make exceptional ophthalmologists.
Iowa City is a highly intellectual community (Iowa City has been named a UNESCO City of Literature) with an abundance of arts and culture events that are accessible to residents both in terms of cost and location.
A competitive stipend and benefits in a region with very low cost of living
We have an outstanding school system for children in grades K-12.
A great training program and a high quality of life
We want you to succeed.
Benefits
For more information about pay, benefits, general GME policies and much more, take a look at the University of Iowa GME web site.
More Questions?
If you have additional questions please contact our program coordinator at laura-pitlick@uiowa.edu