Retinal Surgery Experience
Approximately 700 major vitreoretinal surgeries are performed annually. Proliferative diabetic retinopathy, epiretinal membranes, full-thickness macular holes, and rhegmatogenous retinal detachments are the leading indications though endophthalmitis, proliferative vitreoretinopathy, diabetic traction detachments, vitreous hemorrhages, post-trauma/IOFBs, and other etiologies are frequently encountered.
In 2019, the UI Hospitals & Clinics and department of ophthalmology approved the creation of an eye OR team that consists of RNs and techs dedicated to ophthalmic surgery, including retina. This eye OR team is based in the ASC thus retina surgeries are currently being transitioned for over 95% of cases which should greatly limit night and on weekend surgeries with the exception of true retinal emergencies. On-call cases at night and on weekends will be in the main operating room but have the support of the same eye OR team members. Surgeries involving children are performed in the University of Iowa Stead Family Children's Hospital.
State of the art equipment that is the standard at University of Iowa in the OR includes:
Alcon Constellation and Dutch Ophthalmic (DORC) Eva vitrectomy systems (23-27 gauge)
3 Zeiss Lumera scopes equipped with Resight wide-angle viewing system and Rescan intraoperative OCT
Standard complement of vitrectomy instruments such as macular lenses, vertical/horizontal/curved scissors, ILM peelers, PVR forceps, chandeliers for bimanual peeling, membrane pics, diamond dusted scrapers (Tano and Sapphire), multiple IOFB forceps, intra- and extraocular magnets, straight and curved illuminated endophotocoagulators, indirect laser, intraocular cryoprobe, silicone oil, perfluorocarbon liquids, etc.
Scleral buckle materials
Trial of new, FDA approved instruments are done frequently at UI Hospitals & Clinics in the retina OR.
There is a wet lab with microscope (with BIOM) and surgical simulator with the vitreoretinal module (EyeSi VR Magic) available for use by the surgical fellows. Multiple wet lab sessions at University of Iowa have allowed future technologies to be tested by fellows and faculty.
During the Fellowship, the majority of surgical procedures will be performed by the Fellow under the direct supervision of a member of the faculty. Intraoperative digital recordings can be done on all cases for presentations and used to review and improve techniques.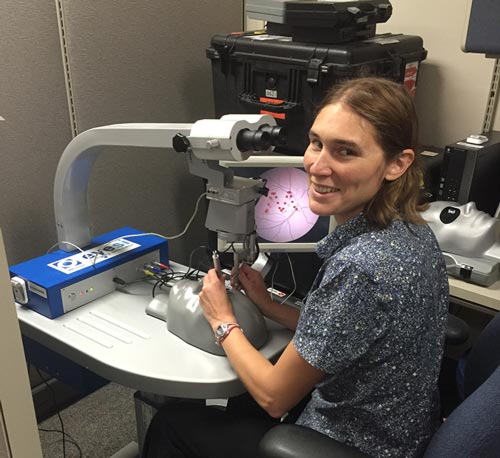 Above is faculty member Elaine Binkley, MD, demonstrating flawless technique on the EyeSi VR Magic vitreoretinal surgical simulator when she was a fellow