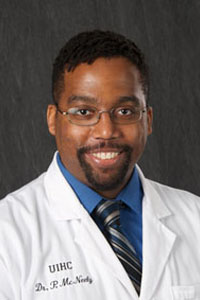 Medical Director, Nuclear Medicine
Clinical Assistant Professor of Radiology - Division of Nuclear Medicine
Contact Information
Primary Office
6856 JPP
Iowa City, IA 52242
319-356-3380
Education
BS, Chemical Engineering and Chemistry, University of Wisconsin-Madison
MD, Medicine, University of Illinois

Internship, Nuclear Medicine, Waukesha Family Medicine Residency Program
Resident, Nuclear Medicine, Medical College of Wisconsin
Fellow, PET-CT Imaging, University of Iowa Hospitals and Clinics
Publications
Pollard, J., McNeely, P. & Menda, Y. (2020). Nuclear Imaging of Neuroendocrine Tumors. Surgical oncology clinics of North America, 29(2), 209-221. PMID: 32151356.
Maheshwarappa, R. P., Shehata Elhelf, I. A. & McNeely, P. (2019). Chronic Venous Insufficiency Causing a Diagnostic Conundrum on Tc-99m Bone Scan Done for Osteosarcoma Surveillance: Awareness is the Key!. Indian journal of nuclear medicine : IJNM : the official journal of the Society of Nuclear Medicine, India, 34(4), 313-316. PMID: 31579187.
Saad Aldin, E., McNeely, P. & Menda, Y. (2018). Posterior Reversible Encephalopathy Syndrome on 18F-FDG PET/CT in a Pediatric Patient With Burkitt's Lymphoma. Clinical nuclear medicine, 43(3), 195-198. PMID: 29356747.
Pollard, J. H., Graham, M. M., Menda, Y., McNeely, P. & Sunderland, J. J. (2018). Gallium DOTATOC Image Interpretation Training. Society of Nuclear Medicine and Molecular Imaging (SNMI) Website.
Abongwa, C., Mott, S., Schafer, B., McNeely, P., Abusin, G., O'Dorisio, T., Zamba, G., O'Dorisio, M. S. & Menda, Y. (2017). Safety and accuracy of 68Ga-DOTATOC PET/CT in children and young adults with solid tumors. American journal of nuclear medicine and molecular imaging, 7(5), 228-235. PMID: 29181270.
Eigsti, R. L., Walsh, J., Robinson, R. A., McNeely, P. S. & Hoffman, H. T. (2017). Laryngeal heterotopic ossification: An atypical etiology of respiratory distress. The Laryngoscope, 127(5), 1143-1146. PMID: 27583381.
Teo, T. Y., Menda, Y., McNeely, P., Kahn, D. & Graham, M. (2015). Incidental Meningioma Detected on 18F-Fluoride With PET/CT During Initial Staging for Prostate Cancer. Clinical nuclear medicine, 40(7), 596-7. PMID: 25899597.
Shaikh, F., Pagedar, N., Awan, O. & McNeely, P. (2015). Sinonasal NUT-Midline Carcinoma - A Multimodality Approach to Diagnosis, Staging and Post-Surgical Restaging. Cureus, 7(7), e288. PMID: 26244120.