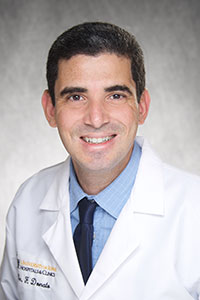 Medical Director, Ultrasound
Clinical Assistant Professor of Radiology - Division of Body Imaging
Contact Information
Primary Office
3897 JPP
200 Hawkins Drive
Iowa City, IA 52242
319-678-7987
Education
MD, Medicine, School of Medicine of the University of Sao Paulo

Resident, Radiology, University of Sao Paulo
Fellow, Body Imaging, University of Sao Paulo
Fellow, Body MRI Research, University of Texas Southwestern Medical Center
Fellow, Advanced Vascular and Interventional Radiology, University of Texas MD Anderson Cancer Center
Licensure and Certifications
Iowa Medical License (Physician - Special) - Iowa Board of Medicine
Brazilian Board of Radiology Certificate - Brazilian College of Radiology
Full Medical License - Sao Paulo Medical Board
Publications
Donato Jr., F. (2017). Bladder and Urinay Tract [Vias urinárias e Bexiga]. In G. G. Cerri (Eds.) Textbook of Radiology [Tratado de Radiologia]. Sao Paulo: Editora Manole.
Costa, D. N., Pedrosa, I., Donato, Jr, F., Roehrborn, C. G. & Rofsky, N. M. (2015). MR Imaging-Transrectal US Fusion for Targeted Prostate Biopsies: Implications for Diagnosis and Clinical Management. Radiographics : a review publication of the Radiological Society of North America, Inc, 35(3), 696-708. PMID: 25786055.
Donato, Jr, F., Costa, D. N., Yuan, Q., Rofsky, N. M., Lenkinski, R. E. & Pedrosa, I. (2014). Geometric distortion in diffusion-weighted MR imaging of the prostate-contributing factors and strategies for improvement. Academic radiology, 21(6), 817-23. PMID: 24709379.
de Menezes, M. R., Odiosio, B. C., Cavalcanti, C. F., Donato Jr., F., Siqueira, L., Rodrigues, M. B., Viana, P. C., Garcia, R. G., Julio, T. & Cerri, G. G. (2013). Interventional Radiology [Intervenção Radiológica]. In P. M. Gehm (Eds.) Textbook of Oncology [Tratado de Oncologia]. pp. 1049-1086. Sao Paulo: Editora Atheneu.
Martins, D. L., Baroni, R. H., Blasbalg, R., Viana, P. C., Bezerra, R. O., Donato Jr., F., Mattedi, R. L., Lucon, A. M., Leite, C. d. & Cerri, G. G. (2008). Avaliação por ressonância magnética dos tumores de adrenal com correlação histológica. Radiologia Brasileira, 41(1), 55-62. DOI: 10.1590/s0100-39842008000100014.
Nakagawa, N. K., Donato-Júnior, F., Kondo, C. S., King, M., Auler-Júnior, J. O., Saldiva, P. H. & Lorenzi-Filho, G. (2004). Effects of acute hypovolaemia by furosemide on tracheal transepithelial potential difference and mucus in dogs. The European respiratory journal, 24(5), 805-10. PMID: 15516676.