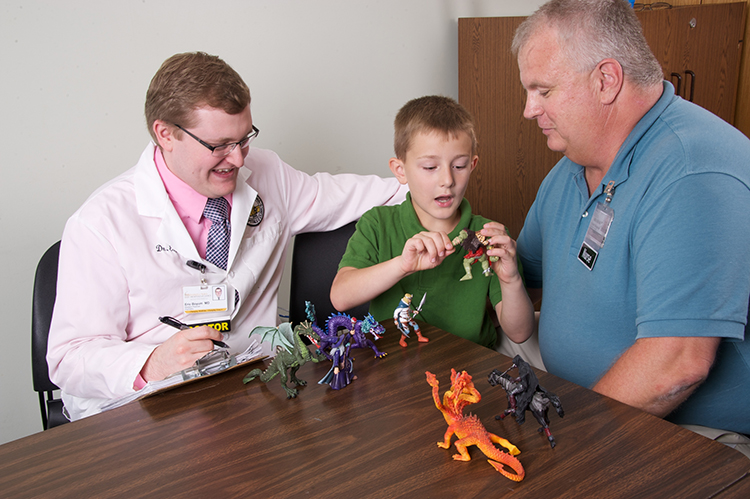 As residents progress to the second year of training, they continue their training on the inpatient psychiatry units as well as additional psychiatric specialty rotations to provide them with a robust inpatient experience.
Rotations include the following:
Geriatric Psychiatry Unit

Residents will be responsible for the care of older psychiatric patients. Many have disorders primarily seen later in life such as dementia, and have comorbidities that include Parkinson's disease, diabetes, and cancer.

Child and Adolescent Psychiatry Unit

Residents will spend two blocks learning about the intricacies of treating patients under the age of 18 years old including evaluation, diagnosis, treatment, and coordinating care with families and social work.

Consult-Liaison Service

Residents will spend one-two blocks evaluating a wide variety of psychiatric disturbances that occur among the medically ill, while consulting and collaborating with their non-psychiatric colleagues.

Electroconvulsive Therapy

One block will be spent evaluating patients for appropriateness of electroconvulsive therapy and administering this treatment modality.

Chemical Dependency Service

Residents will spend one block working both in the clinic and as a consultant for patients with substance use disorders.

Emergency Psychiatry

Residents will spend one to two blocks as the "night float" covering the emergency room, the inpatient psychiatry units at the University of Iowa Hospitals & Clinics, and patient telephone calls over night.

Eating Disorders Unit

Residents will spend one block working with patients diagnosed with eating disorders and who require inpatient care. In addition to pharmacotherapy, residents are involved with the psychotherapy that these patients receive.
This second year provides residents with a broader experience in psychiatric disorders of multiple sub-specialties. These additional experiences prepare residents for increased responsibility as they transition to their third year.