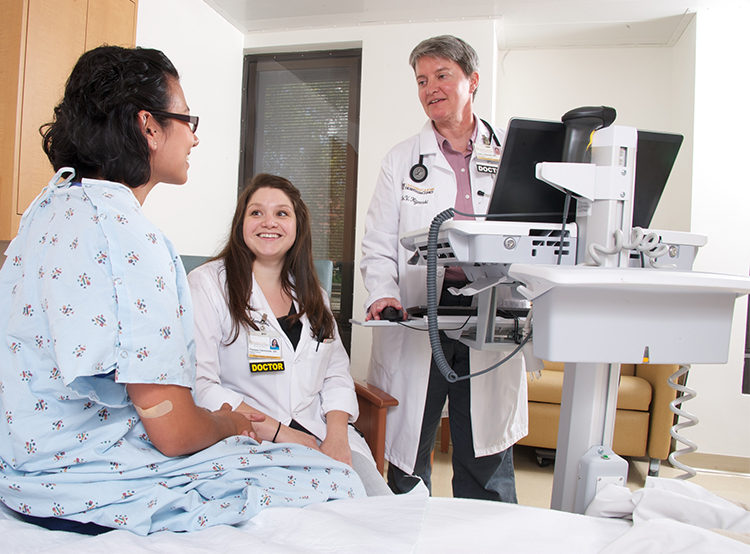 During the first year of training, residents are exposed to both disciplines of psychiatry and medicine.
Residents spend six-seven blocks on the inpatient psychiatry units at both University of Iowa Hospitals & Clinics and the Veterans Affairs Medical Center in Iowa City.
The remaining six-seven blocks are comprised of the following rotations:
Neurology

One block on the inpatient unit and one block with the outpatient clinic/inpatient consult service

Medical Psychiatry

Two blocks treating medically ill patients who are also afflicted with primary psychiatric disorders

Primary Care

Two blocks in either an internal medicine clinic, a family medicine clinic, and/or a general pediatrics clinic

Consult-Liaison Service

Zero to one block evaluating a wide variety of psychiatric disturbances that occur among the medically ill, while consulting and collaborating with their non-psychiatric colleagues.
These rotations provide residents with a foundation in basic medical care and the ability to diagnose common medical and neurological illnesses as well as the psychiatric manifestations of physical illnesses.
Inpatient psychiatry unit rotations at both University of Iowa Hospitals & Clinics and the Veterans Affairs Medical Center are supervised by psychiatry staff. When rotating on neurology, residents are supervised by senior neurology residents and staffed with an attending neurologist. On primary care, residents are supervised directly by a primary care staff physician.
By the end of the first year, residents will be able to diagnose common medical illnesses and more complex psychiatric illnesses. They will have exposure to the diagnosis and treatment of medical ailments while participating in off-service rotations. While on the inpatient psychiatry units, residents will learn how to integrate social work, occupational therapy, and family into the care plan of psychiatric patients. Additionally, they will have opportunities to participate on multiple units to determine areas of interest.