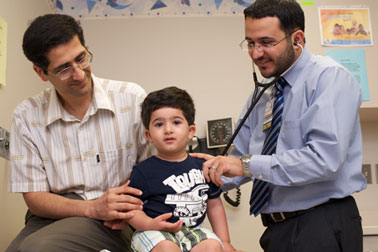 This final year of pediatric training allows our residents to further refine their clinical skills and judgment in a variety of settings. Residents serve as the senior resident and team leader on the inpatient units, in the ICUs, and in the general pediatrics clinic. They are the first-line consultant and supervisor for first year residents and medical students, and gain valuable experience in team leadership, education, and patient care. Residents continue to work in the pediatric subspecialty clinic and the emergency room as experienced members of our department.
Throughout the three-year program, residents are able to design their own combination of clinical, research, and procedural experiences to prepare them for independent practice or fellowship. As a third year resident, three full blocks are available to pursue these interests, with the guidance of the program leadership, program mentor, and divisional resources.
Below is a typical third year schedule. Each block is 4 weeks long. Please see this page for further rotation descriptions.
Blue Team Day Senior
Green Team Day Senior
Red Team Day Senior
NICU Night Team
PICU Nights
UIHC ETC
"Selective subspecialty clinic (see above, 3 blocks)
General Pediatrics and Acute Care Clinic
Elective (2 blocks)
Call-Free Elective