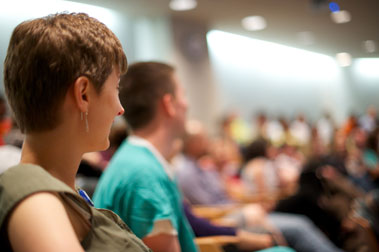 Program Evaluation Committee
Meets 12 times each year to review issues affecting medical students, residents, and fellows. Each class has representation on the committee: residency program administrators and key teaching faculty also sit on this committee. This committee reviews the residency training program annually and suggests changes for the future.
Resident Council
One pediatric resident serves as a liaison between the pediatric residency and the graduate medical education office. This resident provides input and feedback on issues that affect house staff. A representative from all core residency programs is appointed to this committee.
Resident Selection Committee
This committee meets throughout the year to determine how the residency will conduct recruitment activities, meals,or promotional items. This committee helps determine appointments for recruitment dinners and lunches to ensure similar interests are matched up. Each class has two or more representatives on this committee.
Ethics Committee
This committee meets quarterly to discuss ethical issues in patient care to ensure the best treatment of our patients and families at all times.
CQI
This committee meets six times per year to address issues of continuous quality improvement on the pediatric units. The committee is constantly looking for ways to improve patient care and decrease the number of adverse events.
Health Information Management
This committee meets at various times throughout the year to discuss the use and functionality of the electronic medical record and makes suggestions for improvement and change.
Child Abuse Committee
This committee meets quarterly to review issues related to child abuse. This committee reviews approaches to abused children and makes suggestions for areas of strength and improvement.
Patient and Family Council
This committee involves residents, hospital employees, patient, and families. This group meets quarterly to address any concerns raised by patients and their families during interactions with University of Iowa Hospitals & Clinics.