Teaching Staff
All neurosurgical clinical faculty, physician extenders, and residents participate in the PDCT. At present, faculty includes:
Brian Dlouhy, MD
Jeremy Greenlee, MD
David Hasan, MD
Matthew Howard III, MD (Head)
Hiroto Kawasaki, MD
Arnold Menezes, MD
Hiroyuki Oya, MD
Chandan Reddy, MD
Saul Wilson, MD
The program ensures that trainees assume progressively increasing responsibility according to each trainee's level of education, ability and experience. The appropriate level is determined by the teaching staff, as approved by the Program Director. Faculty supervision assignments are of sufficient duration to assess the knowledge and skills of each resident so that the supervising faculty can appropriately delegate to each trainee the authority and responsibility for portions of care based on the needs of the patient and the skills of the trainee. Supervision does not equate merely to the presence of more senior physicians or with the absence of independent decision making on the part of trainees. These supervision standards encompass the concepts of graded authority, responsibility and conditional independence that are the foundation of delegation of authority to more senior trainees, similar to the residency program.
Current Trainees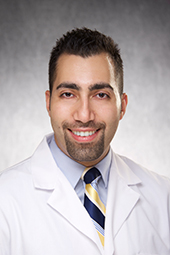 Youssef Hamade, MD
Contact Us
University of Iowa Hospitals and Clinics
Neurological Surgery
200 Hawkins Drive
Iowa City, IA 52242
Phone: 319-356-2771
Fax: 319-353-6605
Program email: kathy-escher@uiowa.edu
Program Director: Jeremy DW Greenlee, MD
Alternate Program Contact: Kathy Escher