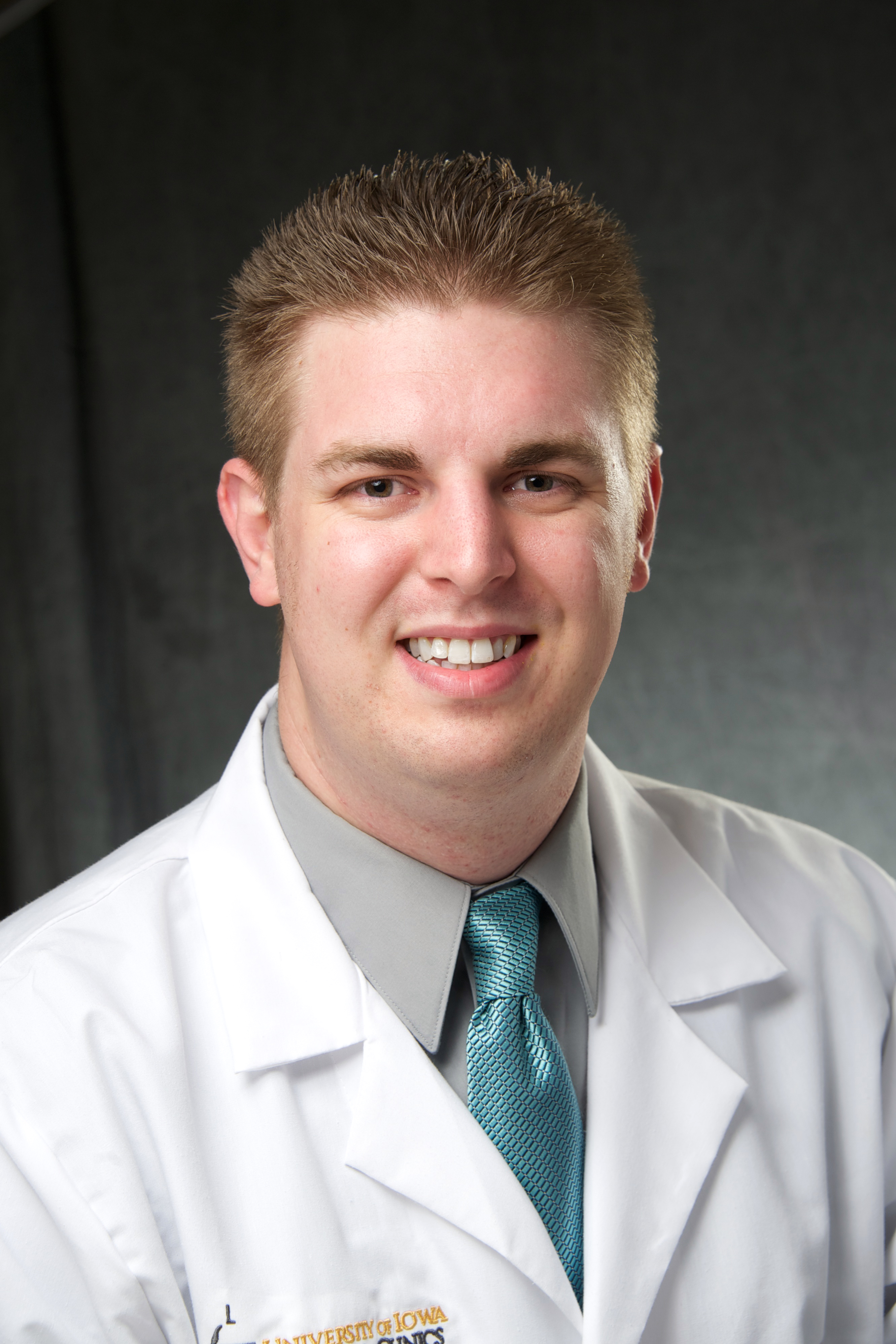 Medical school: Southern Illinois University School of Medicine
Undergraduate: University of Miami, Coral Gables FL
Hometown: Mendota IL
"The Department of Neurosurgery at the University of Iowa has allowed me and other residents to perform high level research with incredible collaborators within a high-volume, quick paced service in a community that is great to live in. This residency fully prepares you to excel in a busy clinical practice, achieve successful rigorous scientific inquiries, and develop teaching proficiencies."
Clinical Interests
Deep brain stimulation
Trigeminal neuralgia
Neuromodulation
Endoscopic and minimally invasive neurosurgery
Stereotactic surgery
Brain tumors
Current Research Inquires
Neurovascular and Autonomic Effects of Spinal Cord Stimulation in Humans: A Potential Novel Treatment Paradigm for Restless Legs Syndrome
Intradural Spinal Cord Stimulation: Device Development, Animal Models, and Translation to Humans, Treatment Options and Outcomes in Trigeminal Neuralgia
Planned fellowships
January 2020-June 2020: Stereotactic and Functional Neurosurgery, University of Florida, Kelly Foote, MD
July 2020-June 2021: Stereotactic and Functional Neurosurgery, Oregon Health and Science University, Kim Burchiel, MD
Selected publications
Epidural Spinal Cord Stimulation: A Novel Therapy in the Treatment of Restless Legs Syndrome.
Holland MT, Rettenmaier LA, Flouty OE, Thomsen TR, Jerath NU, Reddy CG.
World Neurosurg. 2016 Aug;92:582.e15-582.e18. doi: 10.1016/j.wneu.2016.05.077. Epub 2016 Jun 3.
PMID: 27268311
Femoral vascular conductance and peroneal muscle sympathetic nerve activity responses to acute epidural spinal cord stimulation in humans.
Holwerda SW, Holland MT, Reddy CG, Pierce GL.
Exp Physiol. 2018 Jun;103(6):905-915. doi: 10.1113/EP086945. Epub 2018 May 5.
PMID: 29603444
Intradural Spinal Cord Stimulation: Performance Modeling of a New Modality.
Anderson DJ, Kipke DR, Nagel SJ, Lempka SF, Machado AG, Holland MT, Gillies GT, Howard MA 3rd, Wilson S.
Front Neurosci. 2019 Mar 19;13:253. doi: 10.3389/fnins.2019.00253. eCollection 2019.
PMID: 30941012
The cost-effectiveness of surgery for trigeminal neuralgia in surgically naïve patients: a retrospective study.
Holland M, Noeller J, Buatti J, He W, Shivapour ET, Hitchon PW.
Clin Neurol Neurosurg. 2015 Oct;137:34-7. doi: 10.1016/j.clineuro.2015.06.011. Epub 2015 Jun 18.
PMID: 26123528
Durotomy Surrogate and Seals for Intradural Spinal Cord Stimulators: Apparatus and Review of Clinical Methods and Materials.
Nagel SJ, Helland L, Woodroffe RW, Frizon LA, Holland MT, Machado AG, Yamaguchi S, Gillies GT, Howard MA 3rd, Wilson S.
Neuromodulation. 2019 Jan 11. doi: 10.1111/ner.12913. [Epub ahead of print]
PMID: 30632655