---
Different from many residency programs, ours will immerse you in research that's informed by your own curiosity and passion. You'll not only have the support of a faculty mentor, but the laboratory and computing resources of a major academic medical center. Residents are provided the opportunity for dedicated research time during their second and third years in addition to their quality improvement time. Our residents have used their research experiences as a foundation for a career of pursuing the great questions of modern medicine. They regularly present their findings at conferences and publish in scholarly journals.

Resident Research Experience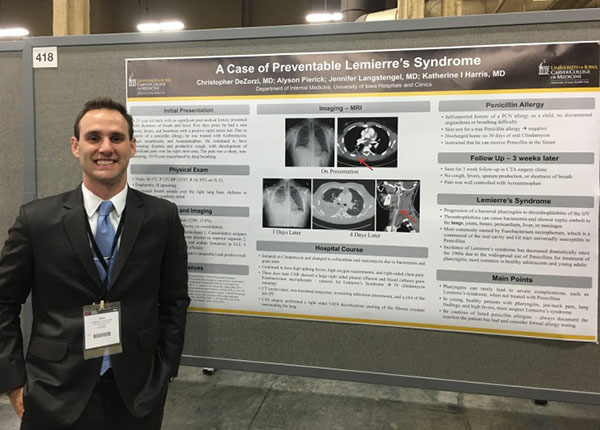 "As an Internal Medicine resident at the University of Iowa, I have been able to develop skills that will be beneficial throughout an academic career in Cardiology. I came into residency without a strong knowledge of the nuances associated with clinical research and the writing skills needed to be successful in the field.  I was able to develop these skills during my time at the University of Iowa thanks to the support of our program including setting residents up with faculty mentors who are truly invested in our growth as investigators. During my time at Iowa, I have focused on clinical studies on the validity of billing codes in cardiac arrest patients, outcomes of patients after atrial fibrillation ablation, and numerous case reports. Thanks to dedicated time to research and constant support from the program and our department, I have been able to present at national meetings each year of residency including the Society of Hospital Medicine, Society of General Internal Medicine, International Academy of Cardiology and even on the world stage at the European Society of Cardiology in Munich, Germany.  These projects have also led to abstract and manuscript publications in peer reviewed journals." – Chris DeZorzi, MD
Dr. DeZorzi earned a Best Poster Award at the 2018 European Society of Cardiology meeting in Munich in August. Read the article here.
Physician Scientist Training Program
Learn about the University of Iowa's Physician Scientist Training Program.
Recent Publications
Fox LM, Miksanek J, May NA, Scharf L, Lockridge JL, Veerapen N, Besra GS, Adams EJ, Hudson AW, Gumperz JE. Expression of CD1c enhances human invariant NKT cell activation by alpha-GalCer. Cancer Immun. 2013;13:9.
Gao Z, Rasmussen TP, Li Y, Kutschke W, Koval OM, Wu Y, Wu Y, Hall DD, Joiner ML, Wu XQ, Swaminathan PD, Purohit A, Zimmerman K, Weiss RM, Philipson KD, Song LS, Hund TJ, Anderson ME. Genetic inhibition of Na+-Ca2+ exchanger current disables fight or flight sinoatrial node activity without affecting resting heart rate. Circ Res. 2013;112(2):309-17.
Guyon A, Balbo M, Morselli LL, Tasali E, Leproult R, L'Hermite-Baleriaux M, Van Cauter E, Spiegel K. Adverse effects of two nights of sleep restriction on the hypothalamic-pituitary-adrenal axis in healthy men. J Clin Endocrinol Metab. 2014;99(8):2861-8.
Edrissian M, Fang M, Xu L, Vogelgesang SA. Rapidly Progressive Systemic Sclerosis in a Patient With Suspected Extragonadal Seminoma. J Clin Rheumatol. 2015;21(7):388.
Fuller BM, Mohr NM, Miller CN, Deitchman AR, Levine BJ, Castagno N, Hassebroek EC, Dhedhi A, Scott-Wittenborn N, Grace E, Lehew C, Kollef MH. Mechanical Ventilation and ARDS in the ED: A Multicenter, Observational, Prospective, Cross-sectional Study. Chest. 2015;148(2):365-74.
Jain S, Khera R, Suneja M, Gehlbach B, Kuperman E. Role of D-dimer Assays in the Diagnostic Evaluation of Pulmonary Embolism. Am J Med Sci. 2015;350(6):501-7.
Khera R, Cram P, Girotra S. Letter by Khera et al Regarding Article, "Impact of Annual Operator and Institutional Volume on Percutaneous Coronary Intervention Outcomes: A 5-Year United States Experience (2005-2009)". Circulation. 2015;132(5):e35.
Rasmussen TP, Wu Y, Joiner ML, Koval OM, Wilson NR, Luczak ED, Wang Q, Chen B, Gao Z, Zhu Z, Wagner BA, Soto J, McCormick ML, Kutschke W, Weiss RM, Yu L, Boudreau RL, Abel ED, Zhan F, Spitz DR, Buettner GR, Song LS, Zingman LV, Anderson ME. Inhibition of MCU forces extramitochondrial adaptations governing physiological and pathological stress responses in heart. Proc Natl Acad Sci U S A. 2015;112(29):9129-34.
Wu Y, Rasmussen TP, Koval OM, Joiner ML, Hall DD, Chen B, Luczak ED, Wang Q, Rokita AG, Wehrens XH, Song LS, Anderson ME. The mitochondrial uniporter controls fight or flight heart rate increases. Nat Commun. 2015;6:6081.
Goddard AG, Azar AE. Work-related asthma secondary to IgE-mediated reactions to rodents successfully treated with immunotherapy. Ann Allergy Asthma Immunol. 2016;117(5):556-8.
Goddard AG, McConomy B, Bathla G, Furqan M, Silverman WB. Air leakage in multiple compartments after endoscopy. Cleve Clin J Med. 2016;83(10):705-7.
Hariman R, Patel P, Strouse J, Collins MP, Rosenthal A. Development of Eosinophilic Fasciitis during Infliximab Therapy for Psoriatic Arthritis. Case Rep Rheumatol. 2016;2016:7906013.
Jain S, Erickson HL, Pezzulo A. Ultrasound Diagnosis of Hemodynamic Compromise in a Patient with Hepatic Hydrothorax. Ann Am Thorac Soc. 2016;13(3):444-6.
Jain S, Khera R. Herpes zoster ophthalmicus complicated by encephalitis. CMAJ. 2016;188(4):E74.
Jonsdottir G, Lund SH, Bjorkholm M, Turesson I, Wahlin A, Mailankody S, Blimark C, Hultcrantz M, Porwit A, Landgren O, Kristinsson SY. Survival in multiple myeloma patients who develop second malignancies: a population-based cohort study. Haematologica. 2016;101(4):e145-8.
Khera R, Cram P, Vaughan-Sarrazin M, Horwitz PA, Girotra S. Use of Mechanical Circulatory Support in Percutaneous Coronary Intervention in the United States. Am J Cardiol. 2016;117(1):10-6.
Khera R, Murad MH, Chandar AK, Dulai PS, Wang Z, Prokop LJ, Loomba R, Camilleri M, Singh S. Association of Pharmacological Treatments for Obesity With Weight Loss and Adverse Events: A Systematic Review and Meta-analysis. JAMA. 2016;315(22):2424-34.
Phadke SD, Ghabour R, Swick BL, Swenson A, Milhem M, Zakharia Y. Pembrolizumab Therapy Triggering an Exacerbation of Preexisting Autoimmune Disease: A Report of 2 Patient Cases. J Investig Med High Impact Case Rep. 2016;4(4):2324709616674316.
Raman R, Mott SL, Schroeder MC, Phadke S, El Masri J, Thomas A. Effect of Body Mass Index- and Actual Weight-Based Neoadjuvant Chemotherapy Doses on Pathologic Complete Response in Operable Breast Cancer. Clin Breast Cancer. 2016;16(6):480-6.
Adams C, Vose A, Edmond MB, Lyckholm L. Shigella sonnei and hemolytic uremic syndrome: A case report and literature review. IDCases. 2017;8:6-8.
An J, Garje R, Wanat KA, Leone JP. Dabigatran-related leukocytoclastic vasculitis. BMJ Case Rep. 2017;2017.
Claflin KE, Sandgren JA, Lambertz AM, Weidemann BJ, Littlejohn NK, Burnett CM, Pearson NA, Morgan DA, Gibson-Corley KN, Rahmouni K, Grobe JL. Angiotensin AT1A receptors on leptin receptor-expressing cells control resting metabolism. J Clin Invest. 2017;127(4):1414-24.
Fisher JB, Peterson J, Reimer M, Stelloh C, Pulakanti K, Gerbec ZJ, Abel AM, Strouse JM, Strouse C, McNulty M, Malarkannan S, Crispino JD, Milanovich S, Rao S. The cohesin subunit Rad21 is a negative regulator of hematopoietic self-renewal through epigenetic repression of Hoxa7 and Hoxa9. Leukemia. 2017;31(3):712-9.
Hilliard CA, El Masri J, Goto M. Staphylococcus caprae bacteraemia and native bone infection complicated by therapeutic failure and elevated MIC: a case report. JMM Case Rep. 2017;4(9):e005112.
Jonsdottir G, Gudmundsson J, Birgisson G, Sigurjonsdottir HA. Primary aldosteronism: from case detection to histopathology with up to 6 years of follow-up. J Clin Hypertens (Greenwich). 2017;19(4):424-30.
Jonsdottir G, Lund SH, Bjorkholm M, Turesson I, Hultcrantz M, Porwit A, Jethava YS, Landgren O, Kristinsson SY. The impact of prior malignancies on second malignancies and survival in MM patients: a population-based study. Blood Adv. 2017;1(25):2392-8.
Odufalu FD, Harris K. Hemochromatosis? When Bloodletting Is Not the Cure: A Teachable Moment. JAMA Intern Med. 2017;177(1):15-6.
Story M. One Needle is Better Than Two: The Philosophy Surrounding Use of Local Anesthesia in Northern India. J Pain Palliat Care Pharmacother. 2017;31(2):162-4.
Zahra A, Fath MA, Opat E, Mapuskar KA, Bhatia SK, Ma DC, Rodman SN, III, Snyders TP, Chenard CA, Eichenberger-Gilmore JM, Bodeker KL, Ahmann L, Smith BJ, Vollstedt SA, Brown HA, Hejleh TA, Clamon GH, Berg DJ, Szweda LI, Spitz DR, Buatti JM, Allen BG. Consuming a Ketogenic Diet while Receiving Radiation and Chemotherapy for Locally Advanced Lung Cancer and Pancreatic Cancer: The University of Iowa Experience of Two Phase 1 Clinical Trials. Radiat Res. 2017;187(6):743-54.
Zakharia Y, Monga V, Swami U, Bossler AD, Freesmeier M, Frees M, Khan M, Frydenlund N, Srikantha R, Vanneste M, Henry M, Milhem M. Targeting epigenetics for treatment of BRAF mutated metastatic melanoma with decitabine in combination with vemurafenib: A phase lb study. Oncotarget. 2017;8(51):89182-93.
DeZorzi C. Radiation-Induced Coronary Artery Disease and Its Treatment: A Quick Review of Current Evidence. Cardiol Res Pract. 2018;2018:8367268.
DeZorzi C, Fernandez-Ruiz R, Gupta S, Harris K. Cerebral amyloid angiopathy mimicking central nervous system metastases: a case report. J Med Case Rep. 2018;12(1):133.
DeZorzi C, Harris KI. Secret Sarcoma: A Cardiac Mass Disguised as Influenza. Case Rep Cardiol. 2018;2018:8628365.
Garje R, Chau JJ, Chung J, Wanat K, Zakharia Y. Acute Flare of Bullous Pemphigus With Pembrolizumab Used for Treatment of Metastatic Urothelial Cancer. J Immunother. 2018;41(1):42-4.
Vargas Buonfiglio LG, Borcherding JA, Frommelt M, Parker GJ, Duchman B, Vanegas Calderon OG, Fernandez-Ruiz R, Noriega JE, Stone EA, Gerke AK, Zabner J, Comellas AP. Airway surface liquid from smokers promotes bacterial growth and biofilm formation via iron-lactoferrin imbalance. Respir Res. 2018;19(1):42.
Willey J, Mentias A, Vaughan-Sarrazin M, McCoy K, Rosenthal G, Girotra S. Epidemiology of lower extremity peripheral artery disease in veterans. J Vasc Surg. 2018;68(2):527-35 e5.
Ansari MS, Tanaka T, Laroia ST, Sun S. Feasibility of Hepatology-Directed Microwave Ablation in Management of Hepatocellular Carcinoma in North America: A Pilot Project. Ann Hepatol. 2019;18(1):11-3.
DeZorzi C, Boyle B, Qazi A, Luthra K, Khera R, Chan PS, Girotra S. Administrative Billing Codes for Identifying Patients With Cardiac Arrest. J Am Coll Cardiol. 2019;73(12):1598-600.
Klein M, Khan M, Salinas JL, Sanchez R. Disseminated pulmonary histoplasmosis in immunocompetent patients: a common epidemiological exposure. BMJ Case Rep. 2019;12(3).
Laderian B, Koehn K, Holman C, Lyckholm L, Furqan M. Association of Hemophagocytic Lymphohistiocytosis and Programmed Death 1 Checkpoint Inhibitors. J Thorac Oncol. 2019;14(4):e77-e8.
Winward J, Lyckholm L, Brown SM, et al. Case of relapsing sulfasalazine-induced hypersensitivity syndrome upon re-exposure. BMJ Case Reports CP 2020;13:e235803.
Fisher MH, Kirkpatrick GD, Stevens B, Jones C, Callaghan M, Rajpurkar M, Fulbright J, Cooper MA, Rowley J, Porter CC, Gutierrez-Hartmann A, Jones K, Jordan C, Pietras EM, Di Paola J. ETV6 germline mutations cause HDAC3/NCOR2 mislocalization and upregulation of interferon response genes. JCI Insight. 2020 Sep 17;5(18):e140332
Dadwal UC, Maupin KA, Zamarioli A, Tucker A, Harris JS, Fischer JP, Rytlewski JD, Scofield DC, Wininger AE, Bhatti FUR, Alvarez M, Childress PJ, Chakraborty N, Gautam A, Hammamieh R, Kacena MA. The effects of spaceflight and fracture healing on distant skeletal sites. Sci Rep. 2019 Aug 6;9(1):11419
Ravi P, Mantia C, Su C, Sorenson K, Elhag D, et al. Evaluation of the Safety and Efficacy of Immunotherapy Rechallenge in Patients With Renal Cell Carcinoma. JAMA Oncol. Published online May 29, 2020. doi:10.1001/jamaoncol.2020.2169
Hammel JA, Elhag D, Ferguson NN. Subungual hemorrhage from an epidermal growth factor receptor inhibitor. Cutis. 2020;105(1):E15-E16.
Elhag D, Dexter F, Elhakim M, Epstein RH. Many US hospital-affiliated freestanding ambulatory surgery centers are located on hospital campuses, relevant to interpretation of studies involving ambulatory surgery. J Clin Anesth. 2018;49:88-91.
Simms A, Kobayashi T, Endelman L, Sekar P. Disseminated histoplasmosis presenting as bilateral lower extremity paresis. Int J Infect Dis. 2020 Jun;95:265-267
Struble RD, Knox BA, Richter KP, Ellerbeck EF. Insurance coverage and utilization of nicotine patches after receipt of a prescription. Subst Abus 2019;Oct 17:1-4
Hoffman RM, Atallah, R, Struble RD, Badgett RG. Lung cancer screening with low-dose CT: a living systematic review and meta-analysis. J Gen Int Med (accepted for publication June, 2020).
Department Research
Find out who is doing research in Internal Medicine
Learn more about our department's research.