Different from many residency programs, ours will immerse you in research that's informed by your own curiosity and passion. You'll not only have the support of a faculty mentor, but the laboratory and computing resources of a major academic medical center.
Residents are provided the opportunity for dedicated research time during their second and third years in addition to their quality improvement time.
Our residents have used their research experiences as a foundation for a career of pursuing the great questions of modern medicine. They regularly present their findings at conferences and publish in scholarly journals.
Resident Presentations
ACP (local and National)
SGIM
ACR
AHA
ATS
ASH
University of Iowa Quality and Safety
SHM
ASCO GI
Clinical Immunology Society
European Society of Cardiology
Internationals Academy of Cardiology
Resident Research Experience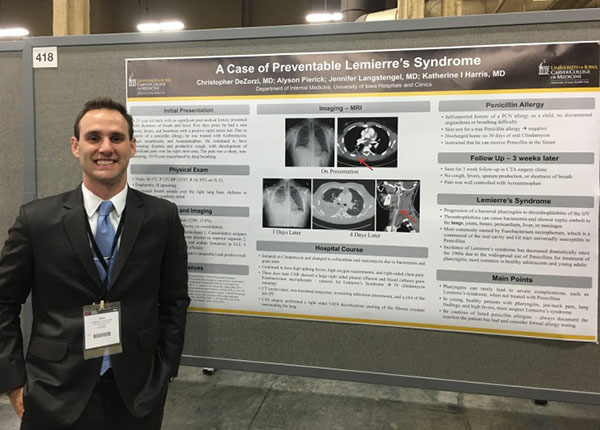 "As an Internal Medicine resident at the University of Iowa, I have been able to develop skills that will be beneficial throughout an academic career in Cardiology. I came into residency without a strong knowledge of the nuances associated with clinical research and the writing skills needed to be successful in the field.  I was able to develop these skills during my time at the University of Iowa thanks to the support of our program including setting residents up with faculty mentors who are truly invested in our growth as investigators. During my time at Iowa, I have focused on clinical studies on the validity of billing codes in cardiac arrest patients, outcomes of patients after atrial fibrillation ablation, and numerous case reports. Thanks to dedicated time to research and constant support from the program and our department, I have been able to present at national meetings each year of residency including the Society of Hospital Medicine, Society of General Internal Medicine, International Academy of Cardiology and even on the world stage at the European Society of Cardiology in Munich, Germany.  These projects have also led to abstract and manuscript publications in peer reviewed journals." – Chris DeZorzi, MD
Dr. DeZorzi earned a Best Poster Award at the 2018 European Society of Cardiology meeting in Munich in August. Read the article here.
Department Research
Find out who is doing research in Internal Medicine
Learn more about our department's research.