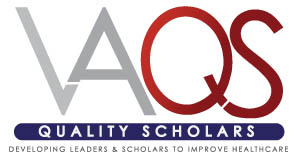 The VA Quality Scholars program develops the next generation of health professionals to improve healthcare through innovations, quality improvement, and patient safety.
Our Vision
Upon completing this program, fellows will demonstrate competence in:
Interprofessional Collaboration and Teamwork
Improvement Methods and Skills
Organization and System Leadership for Quality and Safety
Research
Teaching and Learning
Our Mission
The Mission of this fellowship program is to develop leaders, researchers, and educators who can:
Apply knowledge and methods of health care improvement for the care of Veterans
Innovate and continually improve healthcare within and outside of VA
Teach health professionals about quality improvement and patient safety
Perform scholarly activities that contribute new knowledge to the quality and value of healthcare
Faculty at the Iowa City VAQS site are sought after for their expertise in research methods and specific content. Expertise includes nurse-physician communication, rural health, pharmaco-epidemiology, women's health, infection control, and hospital medicine. Through the CADRE core investigators, fellows can access experts in qualitative research methods, quasi-experimental study design, implementation research, and secondary analysis of large databases.
Fellows come to our VAQS site to gain an expertise in locally driven quality improvement and access to VA data sources and expertise.
Our program site is known for a robust research infrastructure to support fellows in their scholarly endeavors whether they follow traditional health-services careers or healthcare delivery and quality improvement.
Recent fellows have completed degree or certificate programs in Health Administration, Clinical Investigation, Public Health, and Medical Education through support from our academic affiliate.