Several didactic sessions are offered every week. These aim to present the fellows with knowledge related to endocrinology and to teach them how to prepare and deliver their own presentations.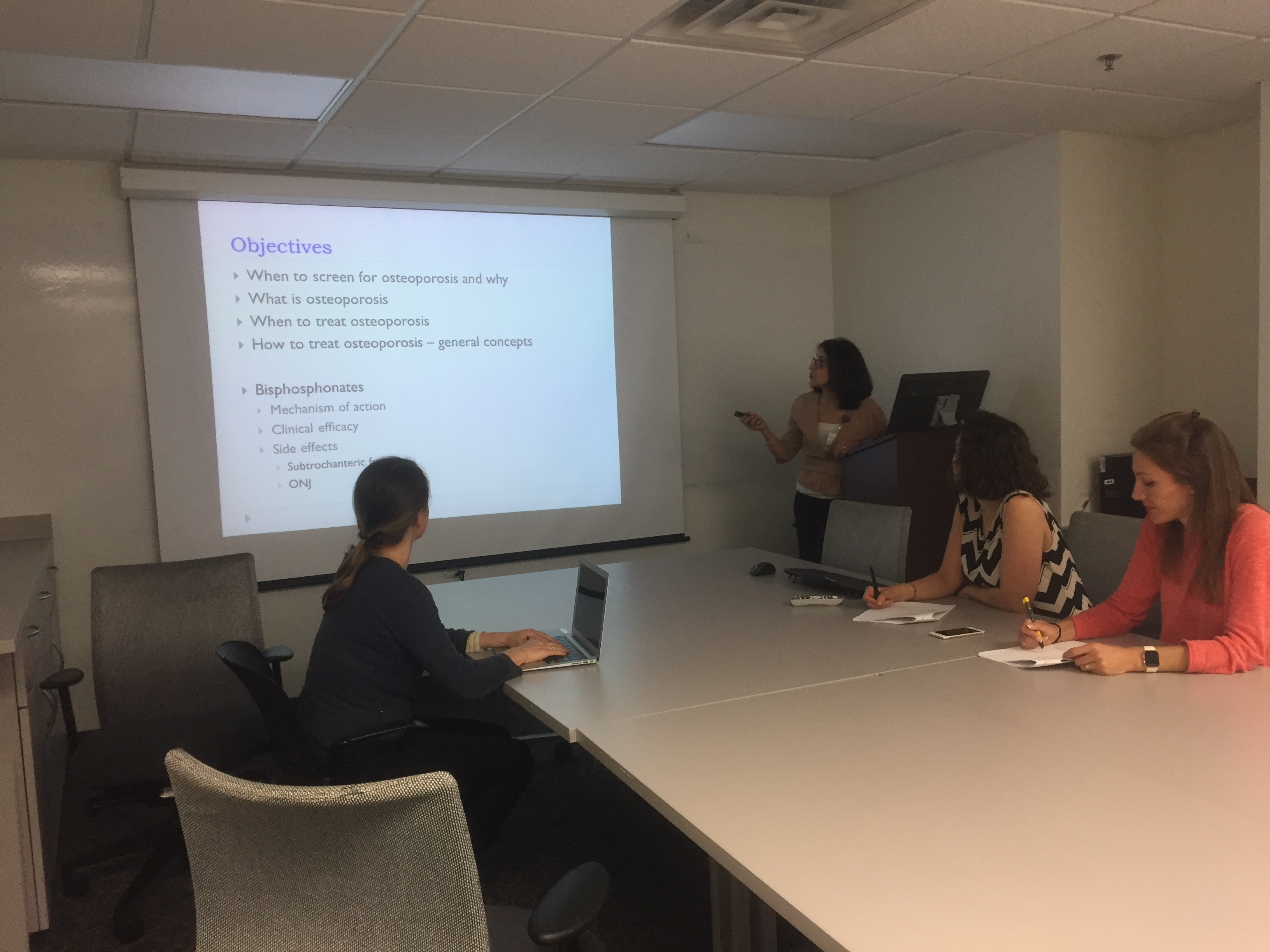 Weekly Frontiers in Diabetes, Obesity, and Metabolism Seminar
These are presented by basic and clinical researchers with expertise in the fields of obesity, diabetes, and the metabolic syndrome.
Weekly Fellow Didactic Curriculum Lecture Series
These cover core endocrine topics presented by endocrinology faculty members and members of other departments and divisions.  Topics discussed include basic endocrine physiology and pathology, clinical endocrinology, nutrition, and endocrine testing.
Weekly Clinical Case Discussions
The fellows present a variety of cases on a rotating basis. Following each case presentation, the presenting fellow leads a discussion among the other fellows, faculty, and any residents and students currently rotating on the service.
Monthly Endocrine Journal Club
These are presented by the fellows on a rotating basis with faculty mentorship.
Weekly Endocrine Grand Rounds
These are presented by endocrine faculty and fellows on a rotating basis, faculty from other divisions and departments, and visiting professors. Fellows are mentored by a faculty member who assists them with topic selection and preparation of the presentation.
Biweekly Tumor Board
These are attended by endocrine staff and fellows, surgical oncologists, otolaryngologists involved in thyroid and parathyroid surgery, radiologists and pathologists. During these sessions, patients with endocrine malignancies are reviewed and discussed, and treatment recommendations are formulated.
Weekly Interdisciplinary Fellowship Conference
These lectures are organized by the core Internal Medicine residency program for all Internal Medicine fellows from all specialties. They include discussions of core topics required by ACGME, additional topics of interest to the fellows, and informal discussions with the department chair.
Monthly Fellow Advancement Conference
On a rotating basis, this conference covers topics related to business, communication skills, and wellness.