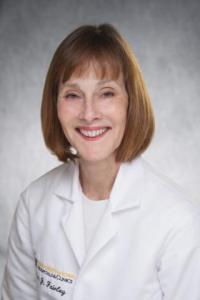 Thank you for your interest in the Department of Dermatology's training programs at the University of Iowa. The University has a strong commitment to excellence in dermatology and this brings educational, clinical and research opportunities. Since many of you visiting this site may be considering training here, it might help you to know what attracted me to the University of Iowa.
First and foremost was its tradition of excellence in dermatology training that goes back many years. Iowa is a department with strengths in both medical and surgical dermatology and a faculty that is committed to passing on their knowledge to our trainees. The faculty is equally balanced with experienced, skilled senior members and energetic, creative junior faculty members.
Additionally, both the Carver College of Medicine and the University of Iowa Hospitals and Clinics are working together in advancing Dermatology. Both have recently invested in the infrastructure and new faculty opportunities for the Department.
The Department also maintains a close affiliation with the Veterans Hospital, which is located directly across the street from the UIHC Hospital. The VA supports both clinical training opportunities and research within the Department of Dermatology. Finally, the University of Iowa also enjoys the strong on-going support of the program by its graduates and the community of dermatologists and patients in Iowa. These aspects of the program that made Iowa a great opportunity for me, I believe also make it a great opportunity for training.
Our department has state-of-the-art facilities are available for patient care and clinical research. In addition, the Department has laboratory space in the Marshall Dermatology Research Laboratories that supports both basic and clinical research. New programs sponsored by the NIH, VA, and industry will offer research opportunities that span clinical, translational, and basic science research on dermatological disorders.
Iowa City is a Big-Ten university community in eastern Iowa with much to offer. An excellent lifestyle is available to our trainees. I hope you will visit us in Iowa City to further explore the outstanding opportunities here.
- Janet Fairley, MD Chair & Department Executive Officer