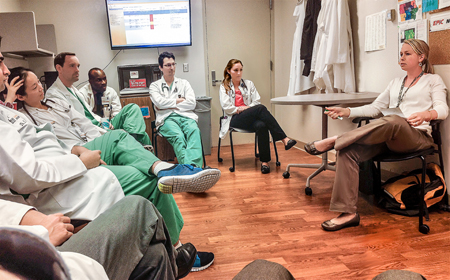 "The teaching resident elective readily helped me identify my strengths and weaknesses"
"Really fun rotation…good to have a dedicated time to focus on how to educate"
The Teaching Resident Rotation is designed as a 4-week experience to improve the teaching skills of participating third-year residents as well as prepare these residents for serving effectively in the role of medical educator. The rotation also provides a dedicated educational venue to demonstrate skills obtained through participation in the longitudinal Teaching Skills Curriculum.
Extensive teaching opportunities support residents in the development of skills essential for effective teaching in common situations. These teaching opportunities include small group facilitation, interactive classroom lecturing, simulation sessions and bedside instruction. The resident will also develop skills of how to prepare and work with multiple levels of learners as well as develop time management skills needed to be an effective medical educator.
Feedback is provided to each resident through written evaluations from students he/she taught during the rotation as well as after direct observation by a faculty mentor (usually the rotation director). The resident will also perform a self-reflection of his/her teaching by evaluating a video recording of a teaching session of his/her choosing.
Further Training Opportunities in Medical Education
---
Teaching Elective Goals and Objectives
The Teaching Resident rotation is designed to improve the teaching skills of participating residents and to prepare third-year residents for serving effectively in the role of teacher/medical educator. Through training, extensive opportunities to teach, and feedback and evaluation, the Teaching Resident is able to develop the skills necessary to provide quality educational experiences to medical students and colleagues. Built into this 4-week experience is the opportunity to interact with faculty mentors who provide feedback and evaluation of the resident's performance in various teaching activities. 
Rotation Goals:
Develop the skills to become an effective medical educator.
Strengthen and promote the educational continuum of teaching and learning.
Enhance the educational mission of the Department of Internal Medicine for excellence in teaching.
Learning objectives:
Identify and promote strategies to create favorable learning environments.
Facilitate the acquisition of knowledge and skills using various teaching techniques.
Control each teaching session by demonstrating the ability to address assigned topics efficiently while maintaining the focus and pace of each session.
Develop and deliver an educational project/curriculum during the rotation. 
Teaching Residents
Click image for larger view.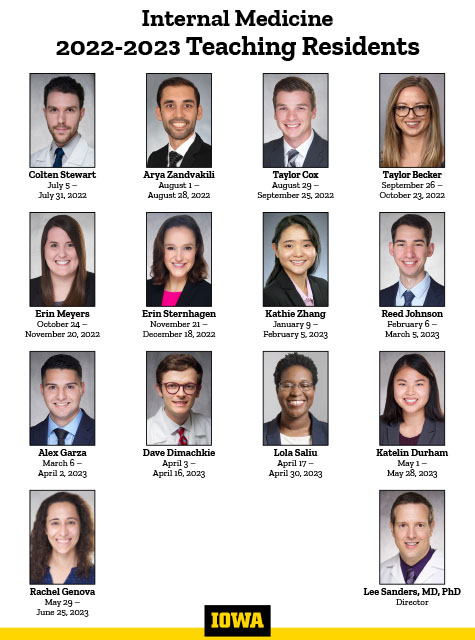 ---
Contact Information:


M. Lee Sanders, PhD, MD, FACP
Director, Teaching Resident Rotation