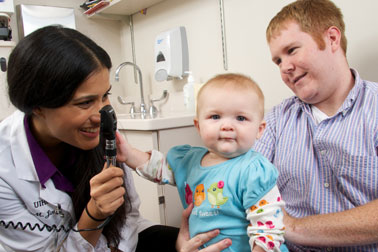 The Family Medicine-Psychiatry Residency Program at the University of Iowa Hospitals & Clinics is designed to provide residents with the training experiences they need to be able to sit for board certification in both family medicine and psychiatry by the end of the five-year program. Residents meet the individual residency training requirements in each specialty. The curriculum is reviewed regularly, and modified to keep up with current training requirements in each specialty, as directed by the Accreditation Council for Graduate Medical Education (ACGME).
Clinical experiences combined with formal teaching are the foundation of the program. Residents have six months of clinical rotations, with lectures and conferences, in each specialty annually. Over the five-year program, residents complete a total of 30 months in family medicine and 30 months in psychiatry.
In order to integrate these two specialties into a focused clinical practice, our residents also participate in some unique training experiences. These include a program-specific continuity of care clinic beginning in second year, an annual program retreat and attendance at the annual meeting of the Association of Medicine and Psychiatry, in addition to ongoing group social and volunteer activities.
View a chart that breaks down our five-year program.