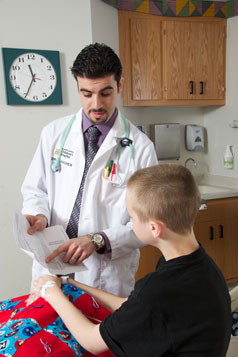 We have designed the first year of training to emphasize the care of the sick child of all ages, allowing our residents to develop expertise in distinguishing the ill from the well child. Close guidance and supervision is provided by senior residents and attending faculty members from all subspecialties in pediatrics. In addition to inpatient, critical care, and nursery experiences, residents spend time in our busy outpatient general pediatrics clinic, evaluating the full range of primary care and urgent care issues. Residents are introduced to our comprehensive developmental center in our developmental behavioral pediatrics rotation. In order to individualize their residency experience, every first year resident is able to choose one subspecialty selective and also an elective to pursue a possible career path, learn more about a field, or develop skills in an area of interest.
During the first year, our residents begin to develop a personal panel of patients seen in their weekly continuity clinic. These patients are cared for by a consistent team of residents and general pediatricians assigned to each day of the week, but identify with one resident to provide continuity for the resident and the family over the course of three years. Residents build their panel of patients through inpatient, nursery, and general pediatrics experience, and see a diverse range of ages, ethnicities, backgrounds, and conditions. Included in the general pediatrics experience are children with complex or chronic conditions that get specialized care through our Children's Hospital.
Below is a typical first year schedule. Each block is 4 weeks long. Please see this page for further rotation descriptions.
Blue Day Team (3 blocks)
Green Day Team (3 blocks)
NICU Bay 2/3
Newborn Nursery
Developmental Behavioral Peds
General Pediatrics & Acute Care Clinic (2 blocks)
"Selective" subspecialty clinic (see above)
Call-Free Elective