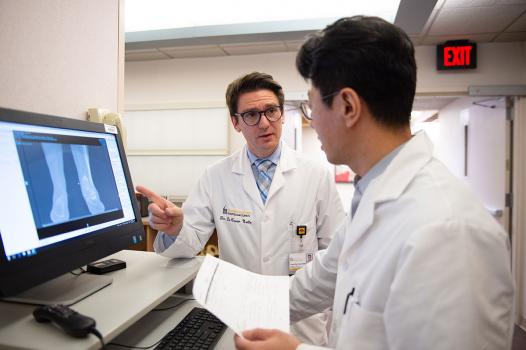 The Department of Orthopedics and Rehabilitation of University of Iowa Hospitals & Clinics is pleased to offer a one-year fellowship in Orthopedic Foot and Ankle Surgery.
Under the direction of John E. Femino, MD, Cesar de Cesar Netto, MD, and Kyle Duchman, MD, this fellowship offers an outstanding diversity of experience in all areas of adult and adolescent foot and ankle surgery including sports medicine, trauma, and reconstruction of the foot and ankle.
The curriculum includes an optional four-week rotation with the orthopedic trauma service with a focus on foot and ankle trauma for the rotating fellow.
Mentorship is a strong tradition for clinical, academic and research growth of our fellows
The fellowship includes exposure to a wide variety of foot and ankle surgical techniques, including:
Advanced arthroscopic and endoscopic techniques of the ankle and foot
Total ankle arthroplasty, arthrodesis, and other treatments of ankle and foot degenerative joint problems
Minimally invasive and open fracture reduction and fixation techniques
Osteotomies of tibia, ankle, hindfoot and forefoot
Deformity correction and limb salvage include the use of hybrid, circular and spatial frame constructs for deformity correction
Current approaches for diabetic limb salvage, including Charcot reconstruction and amputation techniques