Pediatric Anesthesia Fellowship Didactics
The program schedules formal didactic presentations on Monday mornings from 7-7:45 am in conference room 42215 of UI Stead Family Children's Hospital. In addition to the traditional lecture format, didactic teaching includes Problem-Based Learning Discussions, Journal Club, and Workshops.
Anesthesia Grand Rounds
The Anesthesia Grand Rounds meets on the 1st, 2nd, and 3rd Tuesdays from 7-7:45 am. One of these Tuesday mornings will be devoted to the Mortality and Morbidity (M & M) meeting, a patient management conference where residents and fellows are expected to share teaching moments and difficult cases and to discuss complications with their peers to enhance the education of all clinical department members. M & M is moderated by a faculty member. The moderator selects the patient cases for discussion, which are presented by the resident or fellow primarily involved in the patient's care.
Journal Club
Pediatric Anesthesia Journal Clubs are held at locations outside of the hospital complex. Prior to the meetings, the journal articles to be discussed, names of the discussants, and location are published by e-mail and on the Department intranet calendar.
Simulator Program
This program is run by Clark Obr, M.D.  Simulation facilitates fellow learning by using a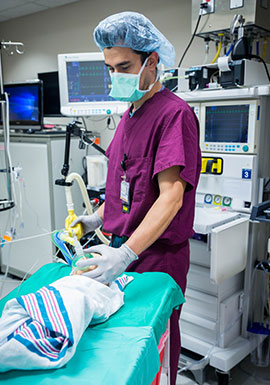 controlled, but very realistic, learning environment.  Patient scenarios are manipulated so that fellows can work on specific skills, especially rare events, and crisis scenarios.  Fellows are scheduled to attend simulator sessions periodically throughout fellowship. 
Workshops & Courses
The Anesthesia Department and other Carver College of Medicine departments hold workshops and courses throughout the year, including:
Advanced Airway Symposium
Iowa Anesthesia Symposium
RASCI (Regional Anesthesia Study Center of Iowa)
Pain Medicine symposiums
Transplant Anesthesia
Ethics in Healthcare (Internal Medicine's Program in Bioethics and Humanities)