OVERVIEW:
The University of Iowa Hospice and Palliative Medicine Fellowship was accredited by the ACGME in 2013 and is affiliated with the University of Iowa Internal Medicine Residency, an ACGME-accredited training program.
MISSION & GOALS OF FELLOWSHIP:
The mission of our fellowship training program in Hospice and Palliative Medicine at the University of Iowa is to provide an academically and clinically rigorous training program. This includes the essential elements of hospice and palliative medicine as well as advanced training in clinical palliative medicine, research, and administration.
The focus of the program is to provide the trainee with clinical knowledge and judgment, professionalism, interpersonal skills, and abilities that will continue to mature throughout their career.
Fellows will train with Hospice and Palliative care interdisciplinary teams.   They will be exposed to a diverse patient population, gaining skills in comprehensive care of these patients in inpatient, outpatient and home settings.
---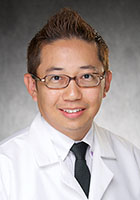 A personal message from Dr. Yuya Hagiwara, Program Director
"The faculty and staff at the University of Iowa Fellowship in Hospice and Palliative Medicine would like to thank you for your interest in our program. The UI HPM Fellowship is a 1-year ACGME-accredited clinical fellowship within the Department of Internal Medicine.
Our fellows enjoy a comprehensive clinical training experience as the University of Iowa Hospitals & Clinics is the only tertiary academic medical center in the state. In addition to our strong clinical training, we focus on preparing our fellows to become future leaders in the field of palliative care. Our program enables fellows to develop excellent clinical skills, while also preparing them to excel as educators and researchers.
Thanks to our partnership with the Pain and Palliative Care Pharmacy Residency Program offered by the University of Iowa College of Pharmacy, our fellows work closely with a PGY2 Pain and Palliative Care pharmacy resident. Our fellows receive didactic training through conferences covering core HPM topics, journal clubs, ethics conferences, and case conferences lead by our interprofessional faculty. We also have multiple opportunities for our fellows to develop their skills as clinician-educators. We encourage fellow involvement in a scholarly project. Our research faculty provide mentoring on these projects throughout the year. Our past fellows have been successful in presenting their scholarly findings at national conferences. 
You will have the opportunity to join a team that is committed to supporting your educational experience. We are very proud of our graduates and their 100% board pass rate. It's our sincere hope that you would consider joining our program as a fellow. Please contact any of us with questions about our program."
Yuya Hagiwara, MD
Program Director, Hospice & Palliative Medicine Fellowship
Clinical Assistant Professor of Internal Medicine - General Internal Medicine
Carver College of Medicine
University of Iowa