Rob Esposito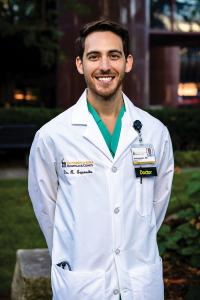 Brief background: Rob was born in Kansas, but was raised in California. He obtained his bachelor's degree from California Polytechnic in San Luis Obispo, California before moving to Alabama and earning his medical degree from the University of Alabama at Birmingham School of Medicine.
Personal interests: Enthusiastic about personal fitness and most outdoor activities, specifically running, golf, hiking, snowboarding, spikeball, and relaxing at various lakes and beaches.
Why IR: When I was on my surgery rotation in medical school, a patient arrived in the trauma bay with a traumatic bleed. Interventional Radiology was consulted and the patient underwent an embolization to stop the bleed. Having little exposure to IR, I went to watch the procedure and knew immediately that IR was the right fit for me. The wide breadth of cases, minimally invasive nature, and significant impact of the procedures on patient care are just several factors that contributed to my decision to pursue IR as a specialty.
Why Iowa: Simply put, the people and the training. During the residency interview process, my interview at Iowa felt the most natural. The people I met were friendly and welcoming, and have continued to be throughout my training. Additionally, University of Iowa Hospitals & Clinics serves a large population of patients across multiple states, is a level 1 trauma center, and has positive relationships with the transplant surgery and oncology departments. Our faculty have diverse experiences and interests, including Pediatric IR, Interventional Oncology, and Hepatobiliary intervention. These factors have helped build a robust IR department that provides invaluable training.
Bradford Oliva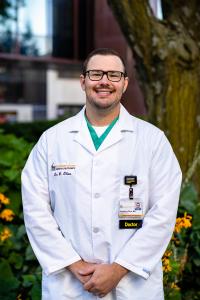 Brief background: Bradford is originally from Kansas where he attended Baker University for undergraduate and the University of Kansas School of Medicine for medical school.
Personal interests: College and professional football, fishing, canoeing, cooking, grilling meats of all varieties, rowing, and weight lifting, in addition to spending quality time with his wife and friends.
Why IR: I became interested in Interventional Radiology during my third year of medical school and liked the pace, hands on approach to patient care, wide breadth of procedures, and ability to make a big impact on the lives of patients in a short amount of time.
Why Iowa: I chose the Interventional Radiology program at Iowa because of the mixture of junior and senior faculty from a wide variety of backgrounds, workplace culture, safe community, and large healthcare system with a level 1 trauma designation, solid organ transplant program, and NCI designated cancer center.
Austin Campbell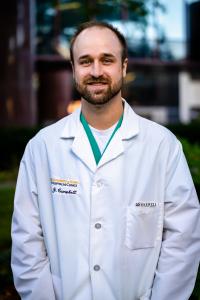 Brief background: I grew up in a small town in Kansas and attended Wichita State for undergrad and University of Kansas for medical school.
Personal interests: Golf, college football and trying new restaurants.
Why IR: In medical school I was originally interested in surgery and like a lot of medical students did not realize there was an IR department. During my surgical rotation I saw a trauma patient with a splenic laceration that underwent splenic artery embolization and was instantly hooked. I began spending my days off shadowing the interventional radiologist and learning more about their practice and all the different procedures they performed. I liked the diversity of IR and the ability to interact with multiple different specialties; as well as the growing practice spectrum. I am sure how we practice IR today will be different than how we practice 10 years from now and that will bring about new challenges/opportunities!
Why Iowa: The thing that initially drew me to Iowa was the residents and how happy they are. They truly enjoyed working together and with their staff! Iowa also has a large referral base which allows us to see a lot of different pathology from multiple different specialties. This along with a busy IR practice will prepare me well for my future job.