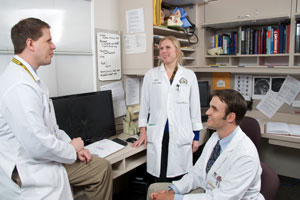 GME contracted residents and fellows must apply for a license from the Iowa Board of Medicine at least three months in advance of the training start date. The Iowa Board of Medicine will not accept a license application more than six months in advance of the contract start date. Every resident or fellow physician or dentist is responsible for acquiring a medical license prior to practicing medicine at UI Hospitals & Clinics. State of Iowa law prohibits practice without the proper license.
The GME office recommends all residents and fellows apply for a license through the Iowa Board of Medicine by using the Uniform Application (UA). This application provides state specific instructions for Iowa. The Iowa Board DOES NOT require applicants to use the Federation Credentials Verification Service (FCVS) as part of the application process, though they do accept FCVS if you choose to use their service. For recent medical school graduates, the Board strongly recommends applicants NOT utilize FCVS.  
Resident Licensure
The Iowa Board of Medicine offers a resident license authorizing the licensee to practice as an intern, resident or fellow while under the supervision of a licensed practitioner of medicine and surgery or osteopathic medicine and surgery in a board-approved resident training program in Iowa. This license expires on the expected date of completion of the training program as indicated in the licensure application. The license becomes inactive when a physician leaves the program or can be extended if completion of the program has not been met by the expected date.
Permanent Licensure
Some fellowship programs require a permanent license. Contact your program director to confirm whether a permanent license is appropriate. If you are eligible to moonlight, you will be required to have a permanent license.
Specific licensing questions can be directed to the Iowa Board of Medicine.