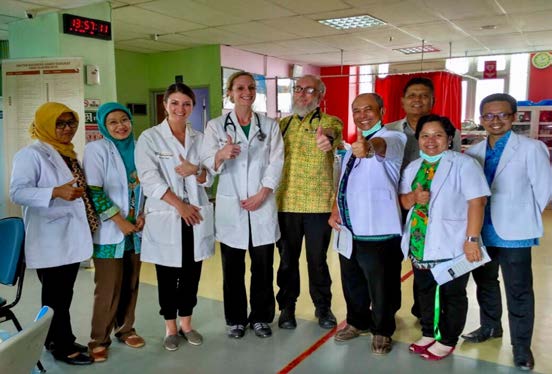 A growing number of UI Health Care residents are choosing to add a global health experience to their training. And, while the logistics for training abroad don't fit every training program, there is an institutional commitment to make meaningful international training opportunities possible for our residents.
Based on the experiences of about 100 UI Health Care residents who have completed international training over the past five years, here are some things for you to consider.
Picking the time
It's best to wait until after the first year of residency. Residents feel better equipped to handle the rigors of practicing in a global setting after the fundamental training of their first years. Your program director will have guidelines for timing that has worked best for past residents.
Choosing the right duration
Due to employment policies, the maximum time allowed out of the country for residency training is one month. Your program director will work with you to find an arrangement, from two to four weeks, that will fit with your other training rotations.
Begin planning early
Planning for an international training opportunity begins several months in advance of departure. The GME International Committee has assembled a set of resources to help you prepare for a successful international training experience. You will need plenty of time to determine where you will go, what you will do, and who you will work with. You will need to be supervised, just as you are in your residency, by someone with appropriate training and a commitment to your education.
The application process
You must have approval from your residency program director and participate in a brief orientation process coordinated by the GME International Committee. Your program director will connect you with the necessary application materials.
Funding your experience
Institutional support funds for international training are limited but growing. You should plan to be responsible for your entire costs for travel and accommodations. Then, explore possible funding from your department and the GME International Committee. For budget planning purposes, your time spent training abroad won't affect your normal monthly salary or benefits. Depending on your setting and host institution, you may need to secure supplemental malpractice insurance, as your malpractice coverage from UI Hospitals and Clinics does not cover you while abroad.
Finding the right opportunity
There are various ways residents connect with training opportunities abroad.
Past experience – Several residents have used contacts from past travel abroad or international learning experiences they've had during medical school to arrange a training opportunity.
A faculty mentor – Faculty members in several of our departments donate their expertise through international medical programs. Frequently, they will invite trainees to be part of a medical team addressing specific health needs in various parts of the world.
Institutional affiliations – The UI Carver College of Medicine has contacts and partnerships with institutions around the globe. Your program director and members of the GME International Committee can help you approach these resources for possible training opportunities.
The benefits of global health training
The rewards for training in a global health setting are both personal and professional. For many participants, the experiences have helped build a foundation for an international focus to their professional practice.
Here's how Chris Buresh, MD, an emergency medicine physician and head of our GME International Committee, describes the takeaways from his frequent work in Haiti:
"You have less testing or imaging available, so you have to rely on making a solid diagnosis based on health history and physical exam. Because of the circumstances, you may be working more outside your comfort zone. That really helps to expand your knowledge base."
"I'm a mid-career physician, and it's common to get caught up in all the forms and competencies our practice requires. Working in a global setting reminds me why I went into medicine in the first place. The real emphasis of my work in Haiti is on taking care of people, here and now, and doing the right thing for them."
"In our crazy world, where everything might seem like it's going bad, opportunities like this show me there is hope in the basic humanity of taking care of one another."